We were looking forward to our visit to Lima, mainly in regards to food. Peruvian food is the current food trend with many amazing restaurants, including a couple in the top 50 restaurants in the world. Lima was happening in two parts for us. Part one, prior to the Inca trail based in Miraflores and part two following the Inca trail based in Barranco.
We were met by Guillermo for a Sunday morning city tour, taking us around key views and points in Lima. Perched on top of the 100m cliffs, Parque del Amor, was usually a great viewpoint over the Pacific Ocean. Not so today, a thick covering of fog prevented you seeing much at all, let alone the ocean below. Seeing all this fog makes it difficult to believe that Lima is regarded as the second largest desert city in the world, also not helped by all the trees and greenery around the city. They must use a huge amount of water for irrigation.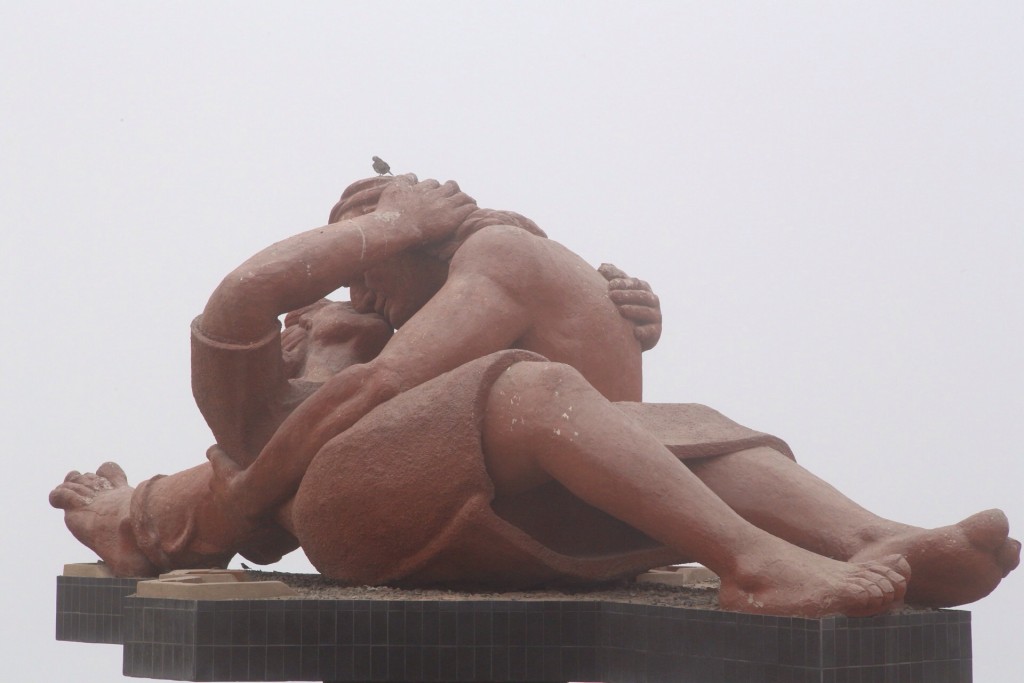 As we zigged zagged through the wealthier districts Miraflores and San Isidro, the fog began to dissipate and the sun started to shine. We stopped for a quick look at Huaca Pucllana, a pre-Inca temple that was built using the 'library method'. There are around 300 temples in Lima, but this was the largest, they even held concerts here. In the middle of San Isidro is El Olivar, a park full of olive trees that were bought by the Spanish in exchange for gold, 1lb olives for 1lb gold. I think the Spanish got the better deal, but every April and May the trees are picked, so at least they are a reusable exchange.
Lima was another city that closes one of their main avenues on Sunday for residents to cycle, run and walk on. It is such a great idea, I would love to see it happen in New Zealand, but there would probably be too many complaints about not being able to use their cars.
The centre of Lima is a quick trip up the motorway, first coming to Plaza San Martin, surrounded by the government buildings. There were many Peruvian flags, Guillermo explained that the red represented the blood of the heroes and the white represented a peaceful country. Walking through Plaza Mayor you were surrounded by beautifully restored buildings with amazing balconies and the Government Palace of Peru. The military were there in a variety of regalia preparing for an elaborate changing of guard ceremony, which happens every Sunday.
We then visited the museum and catacombs of the San Francisco monastery. The stunning dome above the stairway, with its Moorish influence, is considered the best in South America. It also houses the second best library with it's beautiful balcony and many historical books. Even though the white of the flag represents a peaceful country, this isn't always the case, with part of the balcony surrounding the internal courtyard having been damaged by bombing. There were many amazing artworks throughout including a version of The Last Supper with a guinea pig as the meal. The catacombs were a labyrinth underneath the monastery and church and had, at one time, 2500 people buried here. There were still many bones organised in sections and in the deep pits, it was a very eerie place.
The afternoon was ours to spend as we chose, we chose good food and cocktails. We went in search of La Mar cebicheria, it appeared that many locals had done the same and we had about an hours wait for a table. Waiting wasn't a problem here as we enjoyed a couple of delicious cocktails, served with their Peruvian corn. Once seated our biggest problem was deciding what to eat, everything sounded so good and we had no idea where to start. Our waiter, Caesar, suggested we start with the degustation of cebiches and the chalana de causas and then see how we were going. He continued to offer great food and drink suggestions and everything was fabulous. Everything here was fantastic, the space was comfortable and interesting, the staff were so friendly and fun, all making it an even more enjoyable way to while away a Sunday afternoon and thus ending part one of our Lima experience.
On our return from Cusco we were staying in the Barranco area immediately on top of the cliff by the Pacific Ocean. Our hotel, Second Home Peru, was actually the house of Victor Delfin who created the sculpture in Parque del Amor.  There sculptures and artworks scattered around the house and garden and it really felt like a home where you could relax and enjoy your surroundings, including their pet cats and dogs. There was no issue of fog this time so we had a spectacular view over the Ocean and out there somewhere was New Zealand.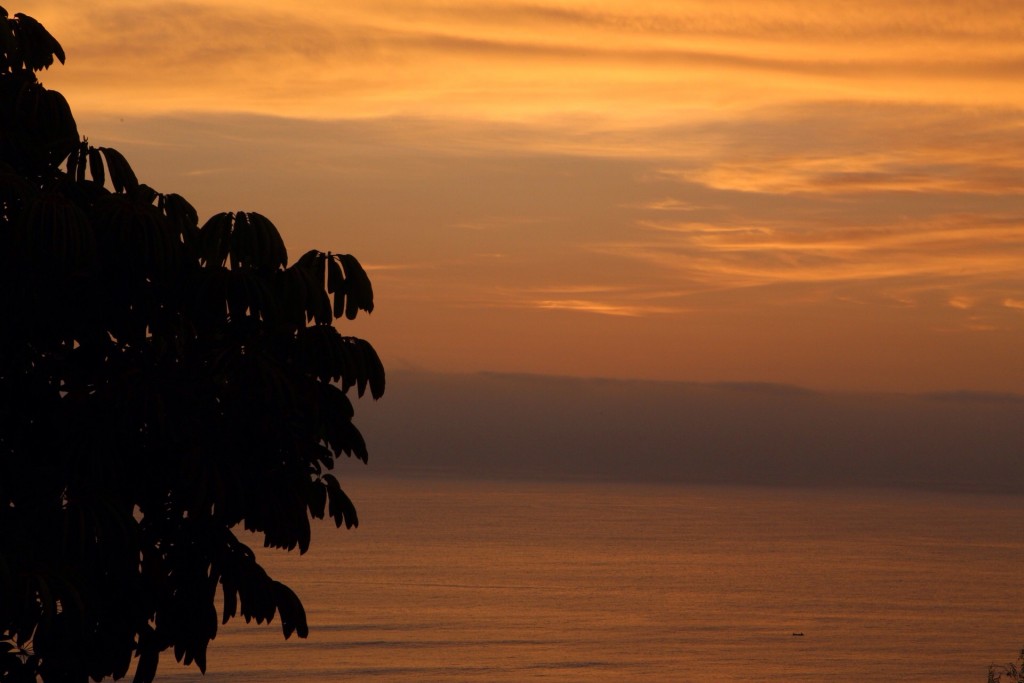 This part of Lima was all about food. We had a cooking class booked and a dinner reservation at Central Restaurant, the top South American restaurant and 15th in the world. Our cooking class started meeting our tutor, Hector, at a local market to buy ingredients for the class. There was a great selection of spices and prepared chilli seasonings, the fruits and vegetables looked amazing, as did the fish and seafood, but it was recommended that you wouldn't buy chicken etc here as you couldn't trust the hygiene. We all then headed off to the home of our tutor for the cooking class itself. The great thing about Lima being a desert city is that everything was set up outside and we didn't have to worry about rain. We made a couple of dishes including a ceviche and Papa la Huancaina (potatoes with a curry sauce) with Hector demonstrating Lomo Saltado while we sat enjoying our efforts. Of course, in the home of Pisco, we made a couple of Pisco Sours and learnt some new ways to separate an egg. It was an enjoyable class with great tasting food, and his secret, MSG in the ceviche.
It would have been better for us to have been able to skip lunch this day as we had our 14 course dinner reservation at Central. This was one of our key food experiences in South America and had high expectations, particularly after Tarquino in Buenos Aires and Gustu in La Paz. Unfortunately our expectations may have been too high. It wasn't that the food was bad, each dish was fantastic with surprising elements, but the restaurant itself was bland and the service was staid. Each course represented a different altitude of Peru celebrating local ingredients, but the drinks pairings contained many foreign wines so it was disappointing not to experience more of the local drinks. Our cooking class tutor felt they had sold their soul and maybe this is the result.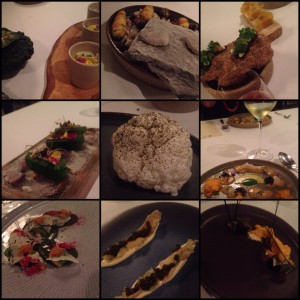 You could certainly see that Lima is an exciting food destination with many amazing options that we didn't even try. There were also many museums, galleries and historical sites that would be interesting to visit, but after seeing so many ruins around Cusco, the Sacred Valley and on the Inca trail, Lima was our recovery session. We were now ready for our final South American destination, Ecuador.