Following a relatively short and straight shuttle bus trip, we arrived in Cartagena. Our hotel was inside the walled part of the city in a gorgeous converted villa with a variety of internal courtyards. One of the courtyards housed the two pet toucans, Gaia and Tato. They were cheeky little things with Tato thinking he could be bartender, but giving up and eating cake. Gaia was ill so spent more time in their cage, but was allowed out fairly often also.  It was easy to become preoccupied watching them hop around the hotel with their bright beaks and inquisitive looks.
Cartagena was a comfortable place to meander around, randomly walking down whichever streets took our fancy. There were many small squares with people milling around and lots of brightly painted houses overflowing with flowers. We found many interesting shops and restaurants to keep us occupied.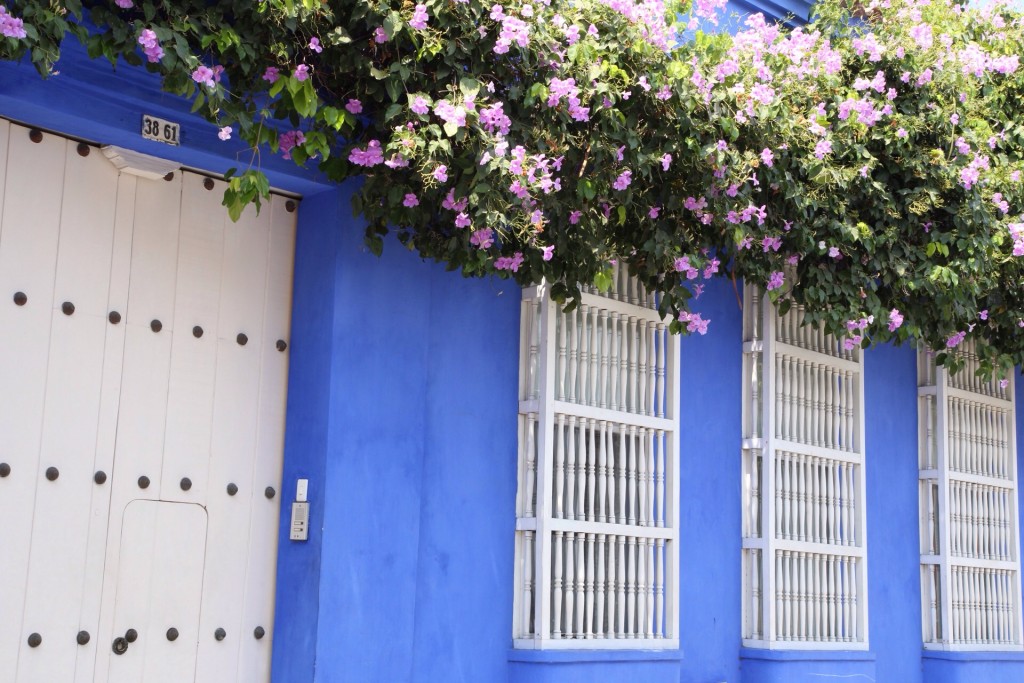 Being on the edge of the Caribbean meant there were more spectacular sunsets, but there didn't appear to be much of a beach, rather a rock wall and main road beside the sea with some people fishing and others kite surfing. Cafe del Mar was the best place to watch the sunsets, perched on top of the city wall you could look out over the goings on below. Coming early ensured you got a good table and could enjoy more cocktails, but it also resulted in other tourists jostling around you to get their photos.
We were spoilt for food options in Cartagena, both at lunch and dinner. The most fabulous place we found was Agua de Mar. It was opened by a husband and wife team that had moved to Cartagena and opened up their restaurant based on what they loved, the food was what she normally cooks at home and he was all about gin. The tapas were fantastic, but the gin & tonics were outstanding, they were certainly the best we've ever had, and we've had a few. It was difficult to choose as the gin options were as numerous as a restaurant wine list normally is and then you chose which tonic to have with it. The subtle differences were quite amazing and you found one to be warming and spicy while another was cooling and refreshing. When your gin & tonic was delivered, they added the tonic at the table pouring it down a long twisted cocktail stirrer, it was fascinating to watch and there is a reason for it, but we never managed to pin down the owner again to find out why.
Our favourite lunch place was El Baron on Plaza de San Pedro. This was tiny with only four tables and the bar. The food options were simple, but the sandwiches and soup were fantastic. Being a bar, they had great cocktails too, such as their Gin Basil smash. The best coffee we found was Cafe San Alberto, which has their own coffee farm. Their cold brew was perfect for dealing with the heat of Cartagena and funnily, it was served in a wine glass, which confused some cruise ship tourists when they came in for a drink.
Cruise ships certainly changed the feel of Cartagena. On the days they weren't there the streets were quieter and there were a few people out trying to sell things, but on the days they were in port the large groups blocked the roads and there were so many people on the street trying to sell you something or get you into their store, it became quite irritating. Some of the cruise ship guests also appeared to have complete disregard for the fact they were in a foreign country and would just expect to have prices given in US$, which they often were, but I just found this arrogant of them.
During our stay, we had an afternoon walking tour of the old city with Juan Sebastián from Cartagena Connections. He was so thorough and helpful and being a local he could explain how things have changed over the years in terms of politics and violence. It was interesting learning about the meaning of the different colours of the houses, the different door knockers and the number of metal domes on the doors (number of slaves the household had).  One problem is that many places need to be restored, such as the bull fighting ring (which is now banned in Cartagena), and since it is a protected UNESCO site, they must be kept in their original style, so it takes a lot of money to do the restoration so many are converted into hotels.  The funniest point on the tour was when Juan Sebastian and the guys in our group helped to push a broken down taxi out of the way.
Following the tour we happened across a group of African dancers in Bolivar Parque. Their costumes so bright and their dancing so energetic that you could stay there watching for such a long time. Some of the dances appeared to tell a story while others just looked like great fun. A few of the dancers did look a little bored, but they dance every night at about 6.30pm so it is somewhat understandable.
Cartagena was a lovely city, well the old part anyway, that had a great vibe, friendly people, amazing weather and would be a fantastic place to spend more time.