Coming into land at Santa Marta airport you sweep in over the turquoise of the Caribbean and pretty much land at the beach. As you walk out of the baggage hall you only need to cross the road to be on the beach, but only the locals were out there enjoying it while the tourists piled into taxis to be taken to Santa Marta itself. We weren't heading all the way to Santa Marta, Gary (from Latin Links) had organised for us to stay in the Rodadero beach area, which was about 10 minutes from Santa Marta. Here we were particularly pleased that Gary had been planning our trip because no guide books or internet information would have suggested staying here, everything was about Santa Marta. Our hotel was across the street from the beach and there wasn't anything else to do, but relax and enjoy the Caribbean.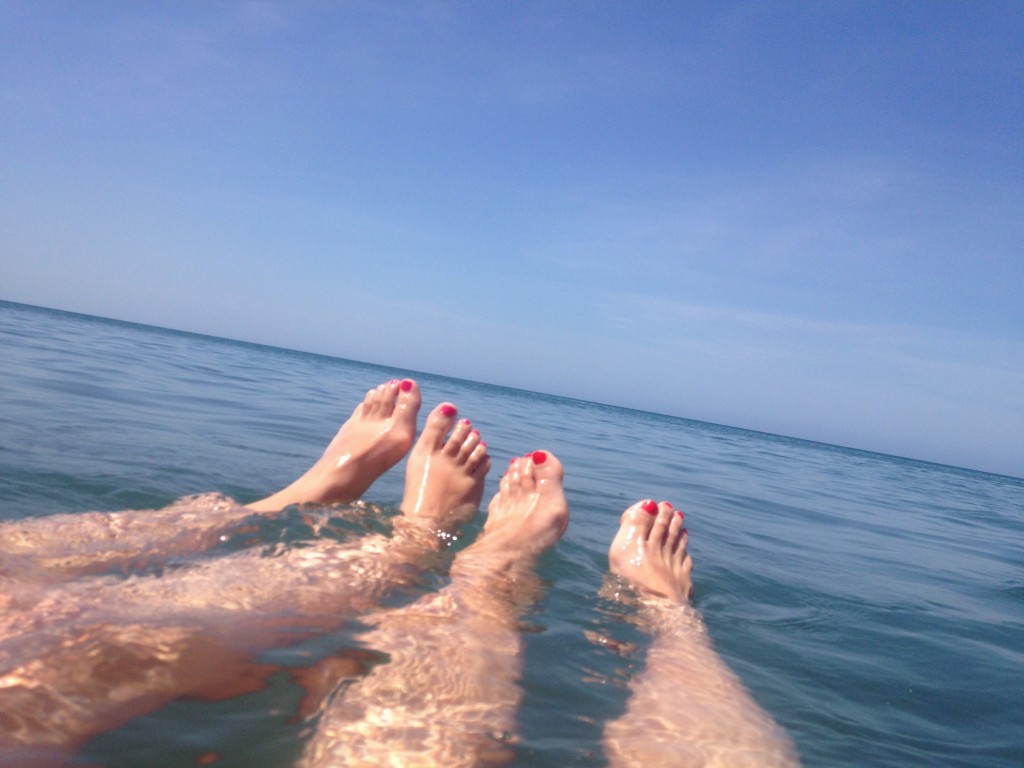 We had two full days here to enjoy the beach, the water was beautiful and such a lovely temperature that I could just float about for ages. Lying on the beach wasn't so relaxing as the wind whipped up whirlwinds of sand and blasted you as it blew by. Even with this distraction it was lovely lying there listening to the jingle of the ice cream vendor's bell, the lapping of the waves on the beach and the rustle of palms being blown in the wind. Later in the day the Coco Loco cart would pass with music blaring selling all manner of cocktails in coconuts, when we finally had money with us to get one they didn't come by again.
To break up the lazing around we figured we should visit Santa Marta itself, since that's where the guidebooks recommend. It certainly had much better food options than Rodadero, but it was really just another colonial town and really hot, so we were missing the water. There is a very small beach here, but only the locals appeared to use it as it wasn't that clean. We searched out a fabulous lunch spot for gourmet filled arepas at Lula restaurant who also did great Mojitos and plantain chips with guacamole. You would think we'd be full after this, but we then went in search of good coffee at El Almanuense bookstore and cafe, but we had to fill in time until they reopened after siesta time. Once we got back for coffee it was a great relief they had air conditioning. They had a great selection of books, but all in Spanish so not much use to us, and as well as good coffee they had amazing looking cakes.
Every evening there was a stunning sunset over the Caribbean, anywhere along the beach gave a good view, but one of the best spots to enjoy it was up at Burukuka, a bar and restaurant perched on a point over looking Rodadero beach and the Caribbean. It was a lovely place to enjoy a cocktail while watching the sun disappear behind the horizon. We didn't stay here for dinner as the wind was a problem and it wasn't as nice inside the restaurant as on the balcony.
The main annoyance in Rodadero was everytime you stepped outside the hotel there would be people trying to sell you boat trips to other beaches or tours into Tayrona national park. The beaches didn't interest us, we were happy at Rodadero and to really make the most of the national park we would want a week to go hiking.
If I was ever to return to the Santa Marta area again I would definitely stay in  Rodadero and taxi into Santa Marta if there was somewhere I wanted to eat or something of interest, but it was the best beach we found in Colombia.