When we were planning our trip of South America we had an issue with timing because the Inca trail is closed in February so we needed to fill in a few weeks before we could head to Peru. One option was to fly up to Colombia, but there was confusion and differing opinions on whether that was a good idea. The positives and Gary (from Latin Links) won and we started our time in Colombia in the capital, Bogota. We actually had a late arrival and then an early departure the following morning for a shuttle bus to Villa de Leyva, so that was really our first experience of Colombia.
The bus trip was hilarious with the equivalent of a conductor hanging out the door yelling our destination trying to pick up as many passengers as possible. When the door was sporadically shut the driver sped off along the roads about 50kmh over the speed limit. At varying points along the trip, vendors would join us in the bus selling a variety of fresh bread, snacks and drinks and then hop off and switch with another vendor. We also stopped in a small village at a row of restaurants that had great looking arepas and sausages, so there was no excuse to go hungry on this four hour bus trip.
We arrived in Villa de Leyva early afternoon, with it's cobbled streets and colonial balconies, it was a very cute town. As usual, our first task was to search out good food and we found Entrepanes in a fabulous courtyard where everything was made fresh, including the mayonnaise for the sandwiches. It had only been open for 10 months and moved to it's current location, from a single car garage, about a month previously.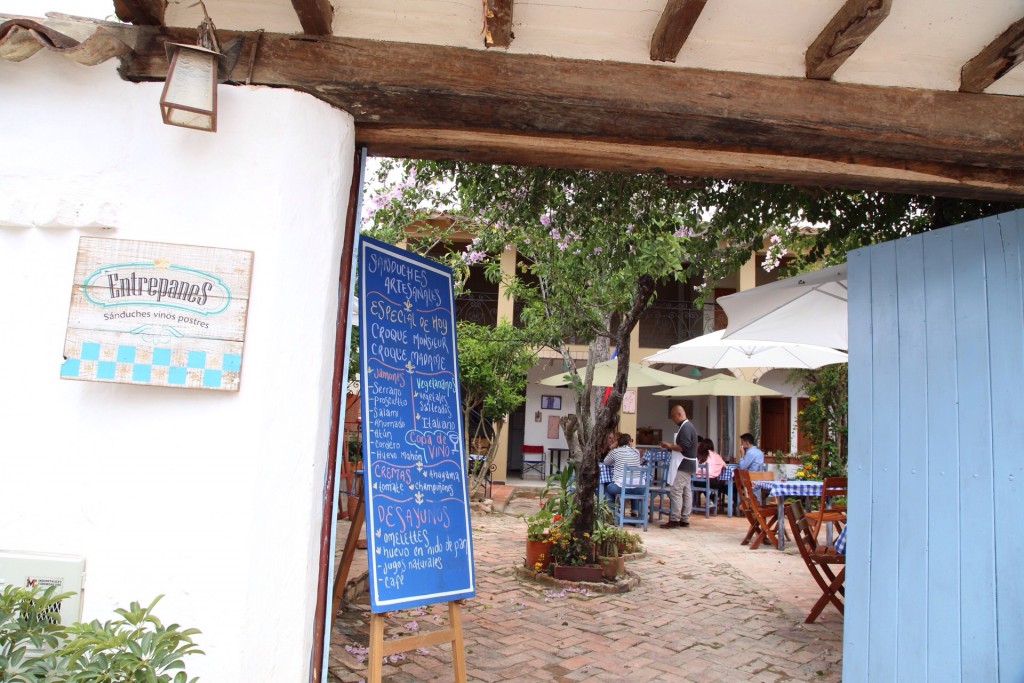 In the centre of the town is the massive main plaza, one of the largest in South America, but is oddly empty with only a small fountain in the middle and completely cobbled. There are a few shops around town and you could join some mountain biking and hiking tours in the area if you had time, we didn't.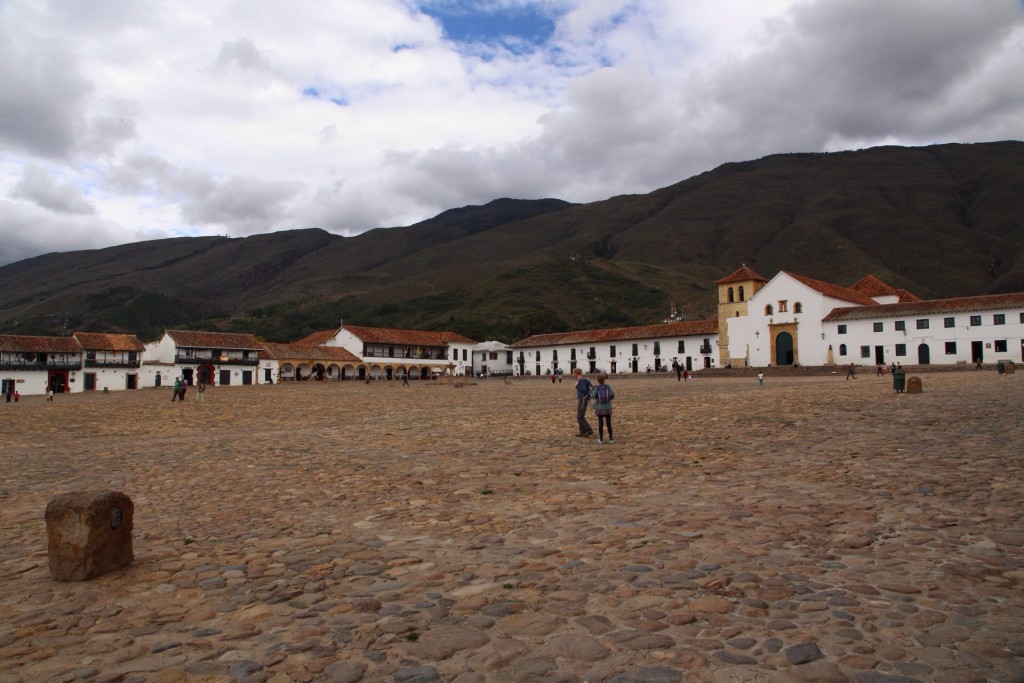 Near our hotel was another good food option, Mercado Municipal, that also includes the Bolivar Social Club bar and Rosa Cremosa desserts as well as the restaurant. Pretty much all of the seating was outside under verandas in the internal courtyard and garden. The food and drinks were great and the fire pit was impressive, especially with the flames jumping up in the dark. We had an extra dinner guest join us here, the resident cat.
Saturday was market day in Villa de Leyva so before returning to Bogota we joined the hoards of locals, including military with guns, to check out the local produce. This was the first place we came across feijoas and we had to try them to see if they were as good as in New Zealand. Other than being smaller, they pretty much were.
On returning to Bogota we found a restaurant around the corner from our hotel that was serving local specialties, we all tried Ajiaco. This was a delicious chicken soup with cubes of potato and a small corn on the cob in the middle and capers, avocado and sour cream on the side to be added as desired.
The following day, Sunday, was a great day to do a cycle tour of Bogota. Every Sunday the main avenues are closed to traffic and are taken over by cyclists, walkers and runners in what is called a Ciclovia. We started relatively early so it wasn't too busy, but as the day progressed playing dogems with other cyclists and pedestrians became more difficult. Our guide, Tania, was great. She took us to the local market to try a variety of odd fruits including one that looks like a sweet potato on the outside, including dirt, but is more like an apple or crisp melon on the inside. She then took us out to Bogota's first coffee roastery where we also tried Bunuelos, a fried ball made from yucca and cheese. There was a lot of great street art murals along the avenues, many with a political message.
On our way back to drop our bikes off we stopped off to play Colombia's national game, Tejo. Tania described it as involving beer and gunpowder, so we had no idea what to expect. You were pretty much throwing balls of concrete at a target made of clay that had little parcels of gunpowder that would explode if you hit the correct target. The whole time drinking beer. We got close to hitting target, but we would have been there forever trying to crack it.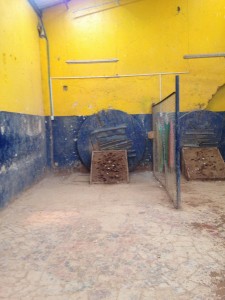 After our bike tour we spent the afternoon visiting Museo Del Oro, which has an amazing collection of original gold artifacts from the different cultures prior to the Spanish conquest.
We weren't leaving Bogota until early afternoon so we booked ourselves onto a Graffiti tour to compare Bogota to Buenos Aires and Valparaiso. Unfortunately, when we finally figured out who we were meeting, they told us it had been postponed to the afternoon, which meant we couldn't do it and took ourselves on our own shortened version with a massive lack of information and probably missing all the best ones.
One of the key tourist activities in Bogota is to go up Monserrate either by funicular or cable car, we thought that since we now had time to kill we might as well go up too. Turns out the queue was massive and timings weren't that great and we didn't want to miss our airport transfer so we ditched the queue and decided to enjoy lunch at the highly recommended Sant Just instead.  Much more enjoyable and a great place to finish Bogota.
I think this day was somewhat jinxed as our airport transfer was then running late, but once we arrived at the airport that was the least of our worries. Initially our flight didn't exist according to the guy at the check in queue and then at the check in counter, we were told nothing was wrong just that our flight had been cancelled. Good thing the girl serving us was so friendly and didn't see a cancelled flight as a problem, we did, but she sorted it out for us, it just meant we would have to change terminals, wait an extra three hours for departure, fly to a completely different city and then bus to our planned destination. The joys of travel, but at least that was only our first real issue with flights etc and hopefully our last.