I really had no idea what to expect of La Paz. You arrive at the airport in El Alto on the plateau above La Paz and drop down into the city of La Paz with buildings covering every space on the hills including some that are teetering on the sides of cliffs. It felt completely nuts with cars and people everywhere and going in every direction at once. Traffic lights appeared to be more of a guideline than a rule and crossing roads could be rather precarious.
Restaurant Gustu was what I was looking forward to the most in La Paz and we spent our first evening here. The whole idea of the restaurant is to promote Bolivian cuisine in a similar way that resulted in the boom of Nordic food. Once in the restaurant you felt like you'd skipped Bolivia and could be in a fancy restaurant in any western country. The menu looked amazing and there were a few different tasting menu options, but the only one we even considered was the Bolivia menu with matching drinks. It was really cute when we ordered because the waitress told us how excited the staff get when they get to make this menu, and we were excited to eat it. As each dish and drink came out the presentation was flawless and the combinations of flavours and textures were perfect. The drinks weren't only wine, there were cocktails, quinoa beer, milkshakes, and teas. We ended up with 13 plates of amazing food and by the end we were quite tipsy and completely full.  Gustu is becoming a destination in itself and I would definitely return to La Paz for it too.
The following day we had a city tour with our Salt Flats guide, Eduardo.  Starting near our hotel is the area called the Witches market where you could buy all manner of sweets, herbs, alcohol and offerings for Pachamama. There were also a lot of women sitting along the road selling a variety of fruits and vegetables and stalls selling costumes and masks for carnival.
One of the things that the current government has done for La Paz is create a new public transport system using gondolas. Currently there are three lines, but there are plans for another six. Their aim was to make it easier and quicker for the working class to get down from the top to the lower areas of La Paz and the price has been kept very low to enable them to use it. They are also a great tourist attraction and a fabulous way to view La Paz. We only caught the yellow and green lines, which are connected, and connect the working class areas with rich area in the bottom of the valley.  Once we reached the end of the green line we went out to another Valle de la Luna, much smaller than in the Atacama desert of Chile and oddly with houses and a golf course built around it. We then went back up through La Paz to the Miraflores and San Sebastián areas, stopping on the way to try Saltenas, the Bolivian version of Empanadas. They are made with a much sweeter pastry and a spicy meat filling with lots of broth, which means you need to use a special technique when eating or you end up with it all over yourself. Luckily for us Eduardo warned us first and we generally avoided wearing the filling.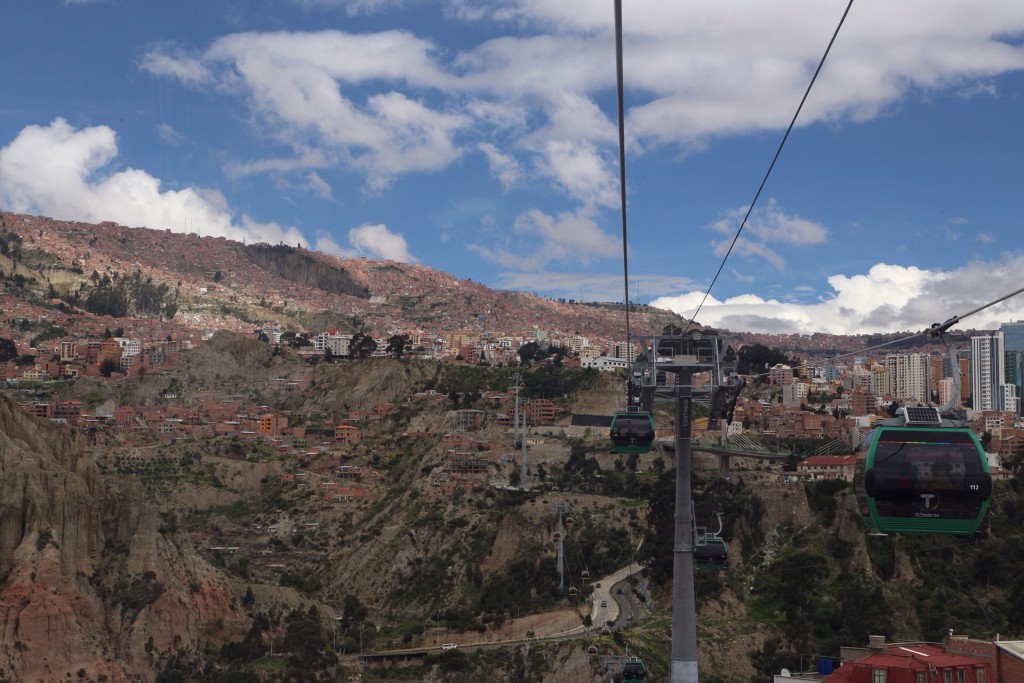 We went to Plaza Murillo that is surrounded by the government buildings, including one with a clock that Evo Morales has reversed the direction of the numbers because he believes that since Bolivia is in the Southern Hemisphere the numbers should be the other way round. Maybe it is just another way to be different from the US. One building in the square had many pockmarks in it's plaster from shootings that occurred during Black February in 2003. Hearing all the history of revolutions and rebellions really made me appreciate how quiet our New Zealand history has been and how lucky we are.
Our second day in La Paz was free to do as we chose, which Clare and I chose to spend mountain biking down Death Road. We had an early start to meet the group and get on the road to reach our starting altitude of 4,700m. Once our gear was all sorted we made our offerings to Pachamama for a safe ride. It was an awful white alcohol that was about 80 proof, Pachamama must be somewhat of an alcoholic.  The start of the ride was cruising on sealed road with us trying to go as fast as possible. We only got to 60kmh, even while tucking, but that's the problem with big fat tyred downhill bikes. The sealed section ended for us when we paid our Death Road fee and piled back into the van to avoid the uphill section on downhill bikes. We then started Death Road proper on the narrow gravel road with it's steep drop off on the side. They have a special road rule for Death Road to keep left, fine for us from NZ, but must be odd for all those, including Bolivians, who drive on the right. The rule is so it is easier for the drivers to see how close their wheels are to the edge when trying to pass a vehicle coming in the opposite direction. Biking on the Death Road isn't as scary as it used to be now that there is a new road that most vehicles use, the most dangerous thing are the other idiots biking the road who think they're bloody heroes. It was a relatively easy ride and great fun way to descend over 3200m. We finished with lunch and showers at Senda Verde, an animal sanctuary for rescued monkeys, before driving back up Death Road and back to La Paz.
We were off again with our trusty guide Eduardo, this time to Copacabana on Lake Titicaca. At one point everyone is emptied off the bus and cross the lake by boat, waiting while the bus crosses on very dodgy looking barges.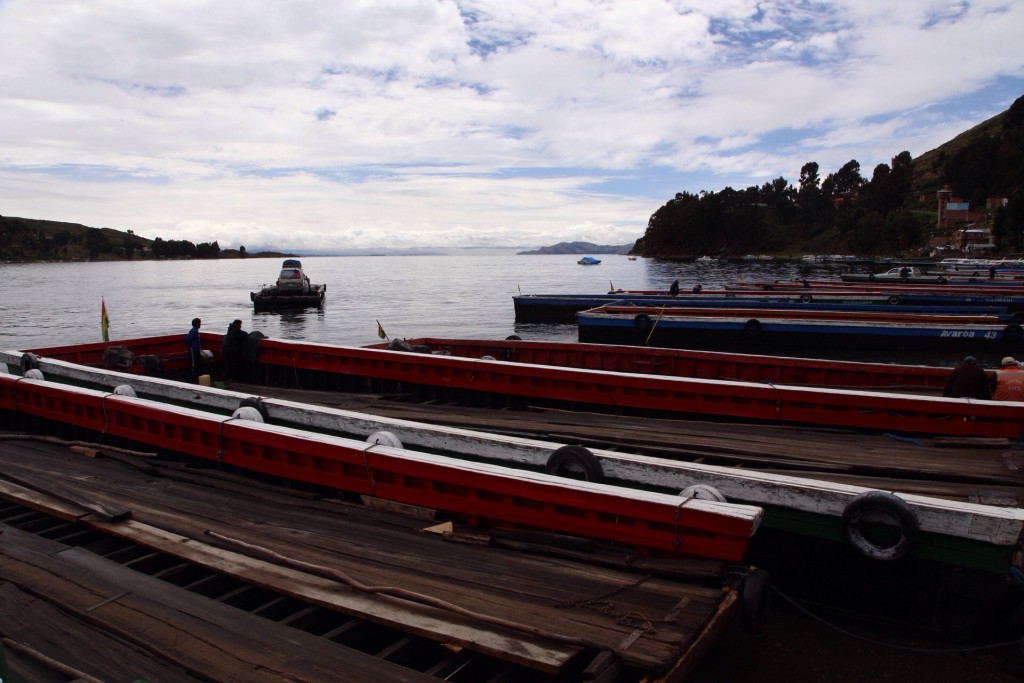 Not surprisingly Copacabana beach in Bolivia is nothing like Copacabana beach in Rio. The key thing here was going out on the lake to Isla del Sol with it's Inca ruins, terracing and cute town with many hostels. There was even an Asian couple here having their wedding photos done. We could see Peru on the far side of the lake and it was frustrating to know how close it was, but it was going to be almost another month before we got there.
Once we were back in Copacabana we went around the town, it was very quick, but were fascinated by the highly decorated cars lined up outside the cathedral. This was so they could get their new cars, vans and trucks blessed (with cheap champagne) by the priest. There were vehicles from Peru, Argentina and Bolivia and it appeared to be a whole family excursion.
We only had the one day in Copacabana, that's all that is needed, then headed back to La Paz for our flight out to Bogota. Eduardo even escorted us to the airport, probably just to make sure he would finally be rid of us. The security check was the longest ever with them searching throughout our bags including spaces I hadn't even realised existed.  We also discovered they had searched our checked in luggage, but they put them back together well.
Bolivia was a fascinating country with so much spectacular scenery, it is a magical place and so worth the visit.