I had been beginning to wonder if Bolivia actually had paved roads, but as we headed out from Uyuni towards Potosi we came to our first paved and laned road. It was a four hour drive for a relatively short distance as the road was so windy and undulating.
Potosi itself is on quite a steep hill with the centre of town up the top. The roads were narrow and it is amazing watching cars trying to get passed each other in two directions on roads we would classify as one way due to their narrowness. Being dropped at our hotel was a mad rush of jumping out of the car and grabbing our luggage as quickly as possible to avoid blocking traffic.
In the town, you feel very closed in and even though you are up the hill there isn't really any view except of Cerro Rico (Rich Hill) that climbs up beside the city.  The name comes from the fact that it contains the silver mines of Potosi. At one point Potosi was the largest and richest city in Bolivia, even bigger than Paris, but that was back in the 1500's and 1600's when the Spanish were at the height of mining Cerro Rico.  Now the mountain supposedly looks like an ant hill inside with all of the silver mines criss crossing around each other. You are able to visit the silver mines, but there are many warnings about it as safety still isn't that great in the mines and the miners don't want it any other way.
While we were in Potosi, it was the lead up to Carnival and we were there for the Thursday of Compadres.  Pretty much a big party for the guys and particularly the miners. There is no way anyone would want to be near the mines that day as you saw and heard explosives being let off outside the mines as the miners celebrated and made their offerings to the devil.  The lead up to Carnival also appeared to be an excuse for the children of Potosi to freely throw waterbombs. People were even on the street selling bags of them prefilled. Generally they were pretty good and only threw them at each other, but we were pretty close to being hit a few times.
Potosi has a beautiful colonial centre with many balconies jutting out over the street and because it has been classified a UNESCO heritage area, all new buildings need to be built in the same way. There are many churches and for a great view over Potosi and up Cerro Rico you can climb up onto the roof of San Francisco church.  From here our guide explained how the city had been set up during the colonial times, separating the native people from the rich Europeans. There were a large number of churches built, more than 80, to accommodate this setup.
The old mint of Potosi, which had actually been used as a mint until 1953, is now a fantastic museum that is well worth visiting.   You need to join a tour to go around, but they provide you with so much information, even the English version, that it is well worth it.  If you wanted to take photos you had to pay extra and with all the tourists around they wouldn't be that great, so I didn't bother. There is so much that is still original with many of the rollers still where they initially stood. Some of the furnaces were left as they had been with the black walls and ceilings indicating what awful conditions they would have been working in, while others had been converted to museum rooms with gemstones, Bolivian armoury and religious relics. They have a good collection of coins and medals that had been minted in Potosi, starting with the original irregular coins. Once minting had become more exact, all mints had their mark and Potosi's was the letters PTSI laid over the top of each other.  According to our guide the $ symbol comes from the SI part of their mark.  Weirdly, there is a carved head of what appears to be Bacchus in the central courtyard, not sure what that has to do with silver or minting, but there were other theories as to what it meant rather than just wine.
We were travelling between Potosi and Sucre on Thursday of compadres, so we were hoping our driver hadn't been joining in the festivities prior to picking us up.  He was waiting until he returned to Sucre to get in on the party, but according to him, the following week, Thursday of comadres (ladies Thursday) was even more raucous with the ladies getting even more drunk than the men.
Sucre was another colonial town with many balconies, but here the streets were much wider and it was in the valley rather than on top.  It is very much a University town and a common place for people to come to learn Spanish so it had many more restaurants than Potosi. We found one to try a variety of local dishes including Mondongo, a spicy stew (not tripe), and pique de la Macho, another meat stew (very spicy, hence, I guess, 'Macho').
On our tour of Sucre, we were taken to Arte Indigena, an amazing textiles museum that showed the textile traditions of the different indigenous groups in Bolivia. The work was intricate and generally very colourful, but that depended on the specific group they had come from. They are now teaching children the traditional techniques so that the textiles will continue as they always have.  We walked through Parque Simon Bolivar, which has very inaccurate, small replicas of the Eiffel Tower and Arch de Triomphe, because a rich lady had wanted them.  The main market was another interesting place to visit and we could have tried their traditional sausages, but food hygiene didn't really look that high on the list of priorities.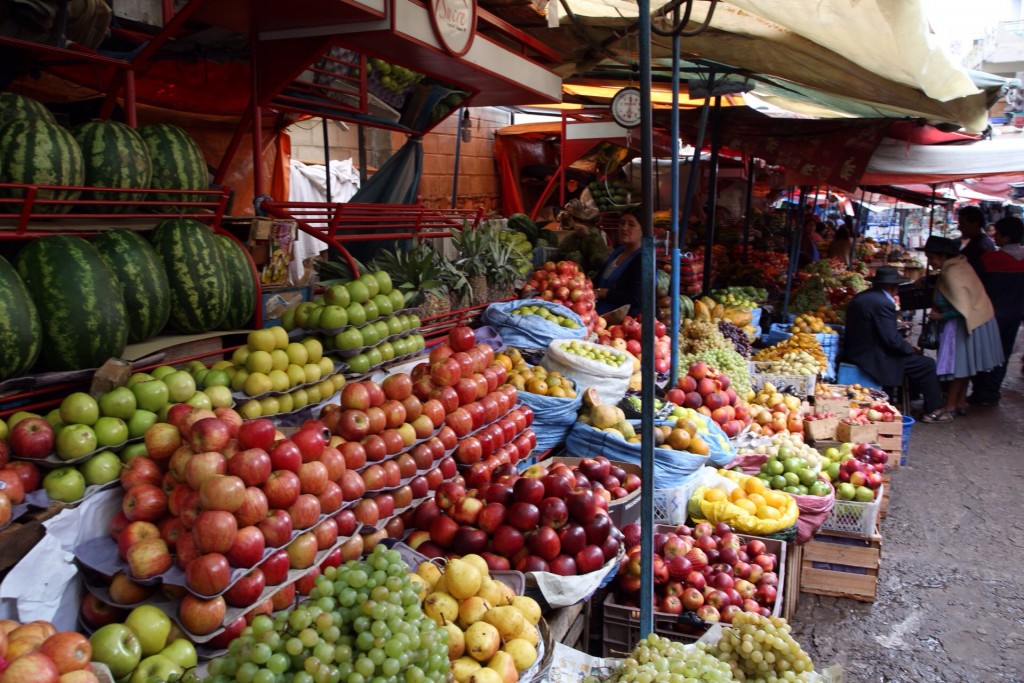 Sucre has many interesting buildings and museums to visit about the Bolivian history and everyone here likes to mention that Sucre is still the capital of Bolivia. I initially thought they meant something similar to foreigners getting confused between Auckland and Wellington, but actually the government sits in La Paz and Sucre is really only considered the capital because it has been written in the constitution and they have retained the judicial side of things.
It felt like ages since our last flight from Punta Arenas to Santiago and we were finally taking a flight again, off to La Paz. This was going to be our first high altitude flight where it takes a lot longer for the plane to take off than we are used to and we were on a dinky little plane with an airline I'd never heard of, Amaszonas Air. Turns out it was all fine and not as big a deal as others had made it out to be.