We left San Pedro de Atacama, via the immigration office, driving back up the hill until we reached the turn off for Bolivia. The road suddenly became a rough dirt track and I really wondered what we were heading into. After following the dirt road for a short distance you could see a line up of 4-wheel drives against a ditch with a few small buildings.  This turned out to be the border crossing between Chile and Bolivia. Our driver, Crisologo, and guide, Eduardo, were waiting for us. While we went in to get our immigration completed they transferred our luggage across the ditch and got the 4-wheel drive packed.
It was funny watching as the variety of laden down vehicles took off towards the Reserva Nacional de Fauna Andina Eduardo Avaroa. Ours was a lot less laden down than most, mainly because it was only the three of us, our guide and driver.  Many of the others were jammed with six people plus their guide and driver, certainly the benefit of doing a private tour.
Our first stop was the White lagoon and our first sight of flamingoes. Eduardo kept telling us we would see more, but that was the start of our vast amount of flamingo photos. The green lagoon was next, but the colour is more spectacular when it is windy as the minerals are more mixed up, but it was still pretty stunning.
We then drove passed Dali's Desert with the amazing red colour and random rocks sticking out. There were also some dried up river beds that now had sand moving down them like rivers with the wind.
The Termas de Polques, on the edge of Laguna Chalviri, was our lunch stop, where we could have had a dip in the hot pool fed by a natural spring.  Unfortunately our togs were buried in our bags, if we had known and had them out, we would have been keen. All of the tours stopped here for lunch, so the number of vehicles steadily increased and each group set up for lunch at tables inside the refuge. Given it was off season, with at least 15 vehicles stopped here, it must be insane during high season when there would be 30-40 vehicles. Crisologo and Educardo prepared us a great lunch and kept reminding us to drink because we were now consistently above 3000m and going higher. There had been warnings about some of the drivers getting drunk and Crisologo and Eduardo were concerned about one of the young drivers downing a number of beers, lucky for us he wasn't our driver, but he could be dangerous for more than just his own group.
After lunch we began to separate from the other vehicles and you could feel the isolation of the area we were in. We were still climbing and reached 4900m when we stopped to walk around the geyser field, Sol de Mañana. All of the steam released helped to keep you warm, but also made it more difficult to see. The geysers weren't like those in New Zealand that spray up jets of hot water, they were more the bubbling mud pool types. You could certainly tell OSH hadn't been here as we were allowed to walk around wherever you liked, you just had to be careful that the ground didn't crack under you and end up in a bubbling pool of mud. There were new pools beginning everywhere and you could see the small bubbles pushing through and those that were getting bigger.
We dropped back down in altitude slightly to Lago Colorado, which, as Eduardo had promised, had hundreds of Flamingoes. The lake itself was an amazing red colour due to minerals and it was yet another spectacular sight of Bolivia.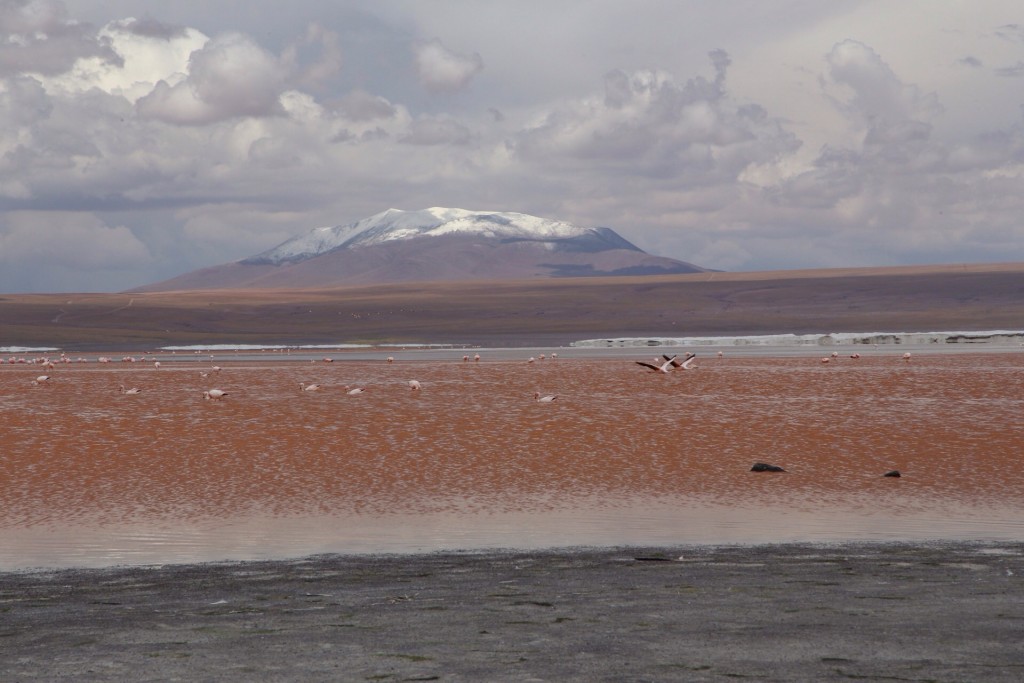 The weather was packing in around us and we had one last stop at the stone tree before heading to our hotel. You could see lightning out front and the wind had picked up, but the rain held off while we climbed around the rock formations caused by erosion and the differing types of stone.
It would be easy to get lost in this desert given that there were no real roads and many random tracks. Luckily for us Crisologo is an old hand driving in the national park and made our trip so smooth you would think we were on paved roads. As we were driving to our hotel the ground turned white from a hail storm that had passed. We felt like we were in the middle of nowhere and then, in the distance, you could make out a building, and that was our hotel.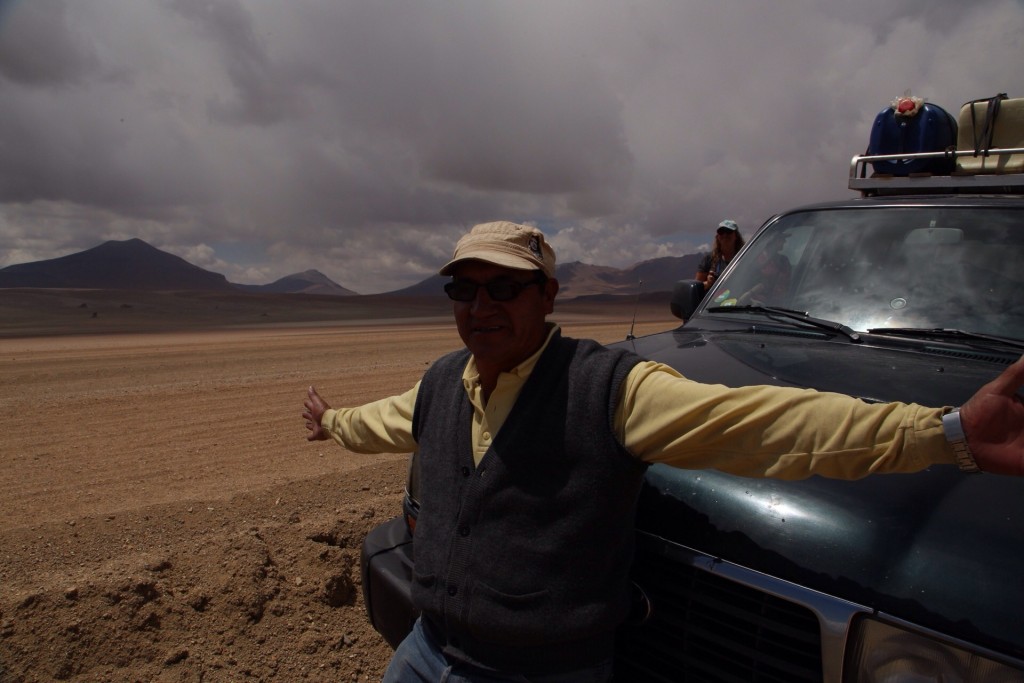 Hotel Tayka del Desierto was at 4500m, making it the highest hotel in the world and it is the only hotel around. There are refuge hostal type places, but no other hotels. Being so isolated, there is power only from 6pm to 10pm and solar hot water, so you need to time things well. We found it bloody cold and wore our puffer jackets inside, so I would hate to think what it would be like in winter. There were only three groups staying in the hotel, but there is room for a lot more. Eduardo assured us that it is normally much busier. I'd be worried it would get very boring for the staff and that the hotel wouldn't be able to maintain itself. We had a lovely dinner sitting with a view of the sunset over the dessert with the fire going behind us all. The beds were cosy with lots of blankets and we got a good nights sleep.
We headed off from the hotel quite early and drove off towards the Salar de Uyuni. As we were driving down a dried river bed we spotted a Viscacha, a rabbit that has a squirrel tail. Our next stop, Hedionda lake, was another great spot for flamingo watching, but here you could see the three different South American species (Andean, Chilean and James).
We stopped to clamber around some random rock formations with views of other volcanoes and on our way out of the park we passed a group who had cycled through the desert, they must have been insane.
We were then heading through to Salar de Uyuni, but unfortunately we wouldn't be able to enter from the south and crossing the salt flats to Uyuni. Being rainy season meant there was too much water on the Salar and we would need to drive to Uyuni first and enter that way. On our way to Uyuni we stopped at more random rock formations including a headless condor (I think I saw the head a bit further down the road), and passed many quinoa farms. Instead of kiwi crossing signs they had Llama and Rhea crossing signs.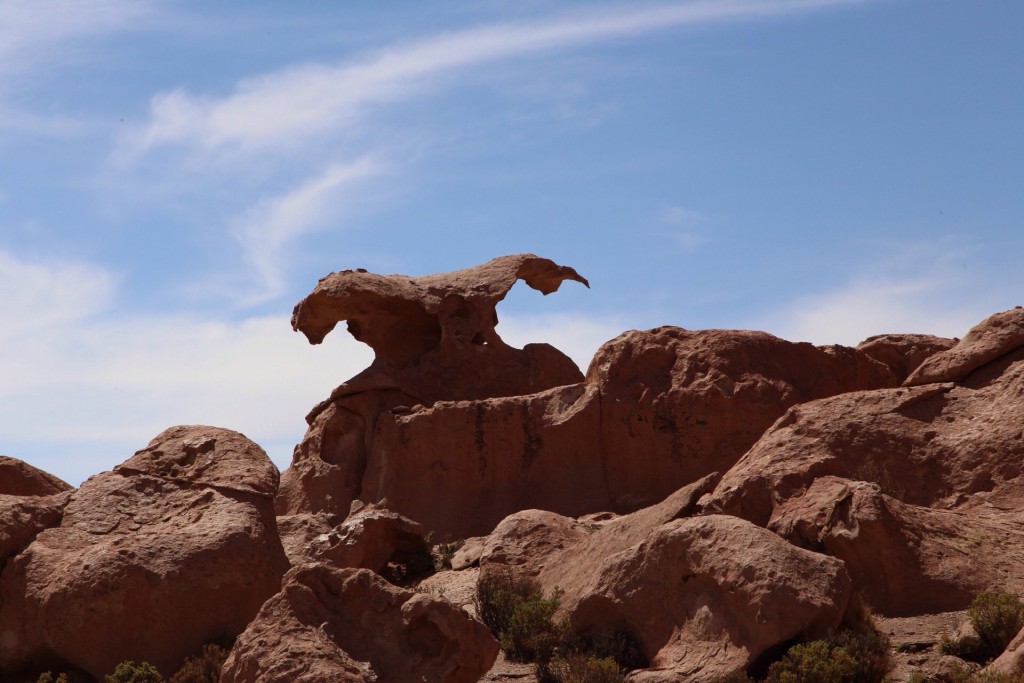 On the outskirts of Uyuni Eduardo asked us if we would like to stop at the train cemetery. It certainly isn't anywhere I would have thought to stop at, but it was actually quite fascinating, with many derelict and rusting trains.
We ended up stopping at Crisologo's home for lunch.  A traditional dish made using dried, salted llama meat that had been washed and fried.  It was actually really nice.
There wasn't anything to see in Uyuni itself so we headed straight out onto the salt flats. As you approach you can see the mirage of the distant hills and then once you are on them proper everything becomes white. It appeared to be never ending except for the distant hills.
There was quite a lot of water on the salt flats, not too deep to stop us getting through, but enough to melt the salt and flatten everything out. Where the water had already evaporated you could see the formation of the salt lines that surround the hexagonal shapes.
The aim was to get out to Isla Incahuasi, but it depended on the amount of water. Crisologo was a great driver and we could see the island slowly emerging in the distance. Before reaching the island, we stopped to make our attempts of the perspective photos, some successful some not so.
There were a few vehicles at the island and even a couple on their bikes cycling across the salt flats. They took off towards the flooded area and the approaching bad weather with no shelter for about 40km, this pair must be even more nuts than the cyclists we saw in Eduardo Avaroa park. We followed the path up and around the island with it's covering of cordon (cacti) and a view out over the salt flats in all directions. The original plan had been to stay out on the salt flats until sunset, but the weather was rapidly deteriorating around us, so there wasn't really much point staying out there.
When we headed back towards Uyuni, the approaching weather caught up with us and I was worried it could affect our chances of getting back, but it was no problem for our driver. We passed a few vehicles heading out to watch the sunset, which given the weather, seemed very unlikely to be much of a sight.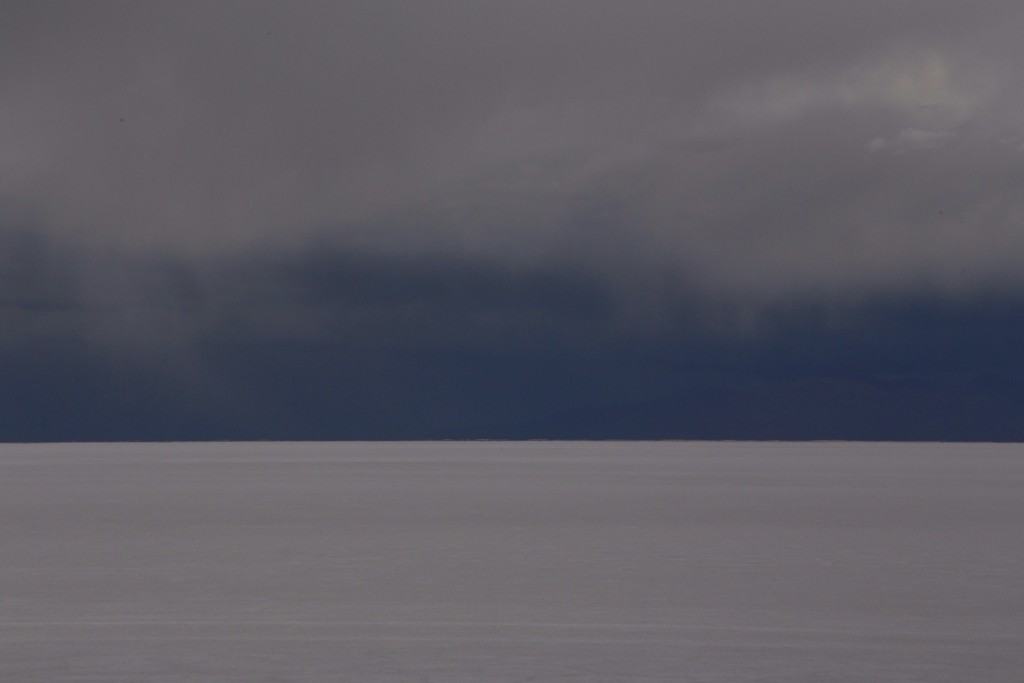 We were dropped at our hotel, Luna Salada, made mostly out of salt, including furniture, walls and flooring. It had a great view out over the salt flats towards the west so we could keep an eye out for the weather clearing. In the far distance you could begin to see a change as the sun began to set and the colours behind the clouds and rain were stunning. This was an amazing finish to a spectacular introduction to Bolivia.