In the Salta province of Argentina they appear to like combining transfers with tours. It is a quite a nice way to kill two birds with one stone rather than wasting time just travelling for the tour. This tour was of the Quebrada de Humahuaca that started in Salta and for us, finished in Purmamarca. An English couple that had been on our tour in Santiago was also on this tour. As usual, on bilingual tours, you get a lot more information if you understand Spanish, the English version always seems to be shortened, but I still hadn't learnt enough Spanish to be any use.
Our first stop was actually Purmamarca to pick up other tourists who were also using the tour as a transfer, but back to Salta. We were free to wander around the small market town and it's massive number of craft and souvenir shops and stalls. The key draw of Purmamarca is the Cerro de los Siete Colores (the hill of seven colours) that we viewed on our way out of town as we continued the tour.
As we travelled up the Quebrada we were due to make a few stops, some for photos and some for a wander around. We stopped at the Tilcara ruins, which were an Inca settlement that has been partially restored. Our English speaking guide, Freddy, was actually excellent here, that is after we had wandered off because we couldn't be bothered listening to the Spanish information first. The Incas had a great communication system set up along the valley to warn of approaching armies, plus the Pucara Tilcara was raised on a hill so provided excellent protection. The odd thing in these ruins was that a memorial had been built to the archeologists who had discovered this Pucara, was a pyramid, more an Aztec symbol than Inca and looks very out of place. Freddy couldn't tell us why they had done this, someone must have been confused.
We carried on up the valley, to our turning point, Humahuaca. This was to be our lunch spot and stopped at Kallapurca restaurant for a set menu. The food was quite nice, but the great thing here were the local bands who came to entertain us. They were two different styles and both groups were very good.
Following lunch, Freddy guided us around the town centre showing us the moving clock, that didn't work while we were there and explaining the monument to the Inca runner.  We had delusions of running up the steps a la Rocky, but then remembered we were at almost 3000m, so would probably kill us.  He took us to a textiles cooperative where they were teaching young woman to use the traditional techniques in the hope of maintaining the original skills. Here we were able to feel the difference between sheep, llama, alpaca and vicuña wool. Vicuña was the softest wool I had ever felt, but it is also the most expensive at US$2,500 per kg. I would have loved to have taken some to knit, but luckily a lack of packing space saved me a lot of money. Freddy also explained to us about their carnival traditions, where it again involves a lot of alcohol, but there are specific indicators to use if you are looking for a partner or even that you have someone at home but could be available for the right person.
After our walk around Humahuaca we headed back down the valley stopping at San Francisco de Paula Church that houses the Angels with guns paintings, which we first saw at Pajcha museum in Salta. They were from the Cusco school and came about when the Spanish colonial settlers were teaching the indigenous population to paint and explained that angels looked like the Spanish but with wings, so the Angels ended up with guns, spears and shields.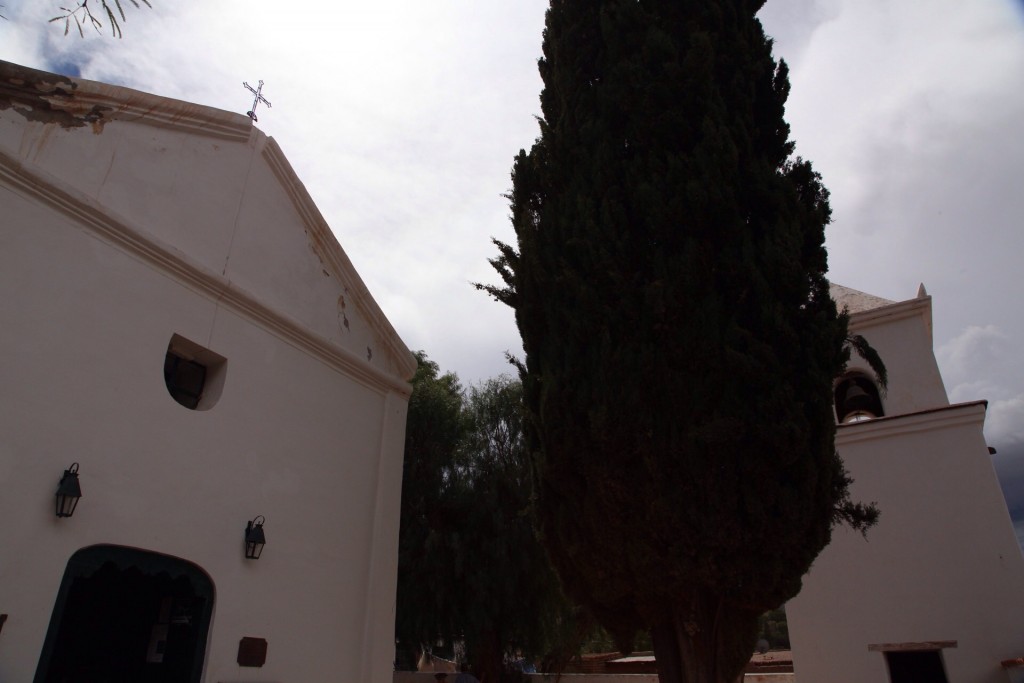 We stopped at the Tropic of Capricorn, an interesting place to drive by, but not much to look at. By the time we made it back to the Pintors Palette it had clouded over so the colours in the earth weren't as vibrant. The tour then dropped us off at our hotel in Purmamarca, where we visited our resident llamas, and went for a walk.
The short walk around the hill of seven colours provides an opportunity to see the variety of colours, particularly the vibrant red colour of the rock. Water erosion appeared to happen relatively easily and there were many imaginary creatures you could make out from the formations.
The trail led us back into the town square where a live Argentinian reggae band was performing. They were excellent and kept us entertained for the remainder of their set. Just to prove how much we don't look like locals, while we were watching the group a random guy came up to us asking if we were the Warburton girls, turns out he was driving us to San Pedro de Atacama.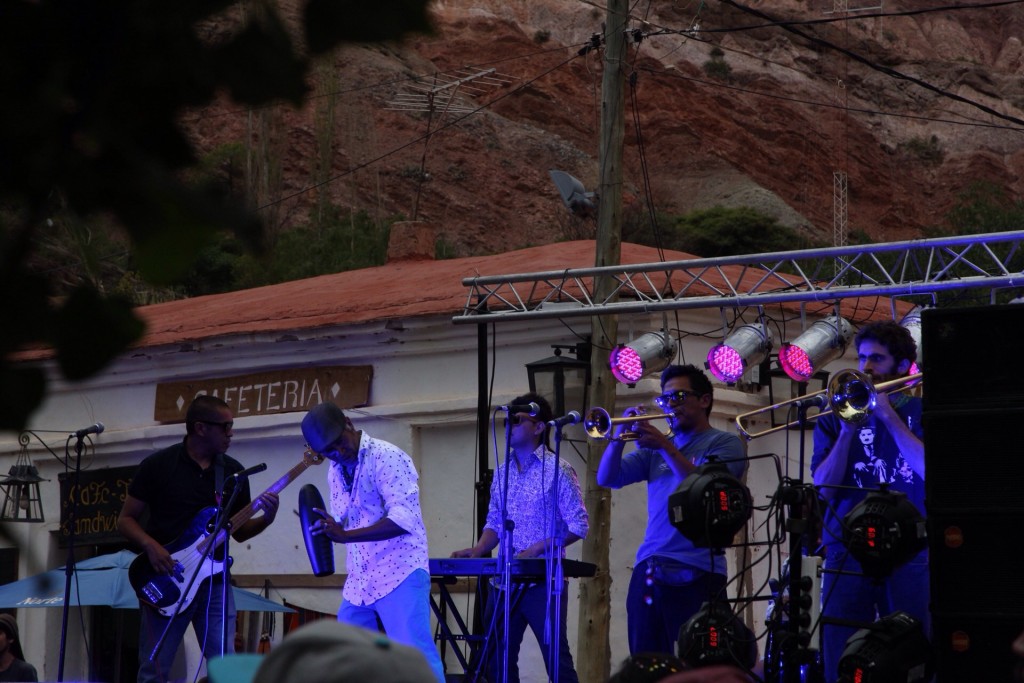 We were due for an early start the following day so we had an early dinner at Tierra de Colores that was recommended by our soon to be guide and the Lonely Planet, which had some great food including quinoa Milanese and an amazing wine selection.
Purmamarca isn't somewhere I could spend much time, but it is a nice stop off on the way to Chile and Bolivia.