Even though I have been travelling on buses relatively well in South America, I was still concerned about our overnight, 13 hour bus trip from Mendoza to Tucuman. We had been told how comfortable the overnight buses were, but I was still concerned that you would be squashed by the people in front of you when they lay back. All of my worries were absolutely unfounded. The bus trip was the most comfortable ever with seats that lay back completely flat and you were totally separate from the people in front of you. Dinner and breakfast was even served, not that the food was that great, and you could play bingo, which was good practice for our Spanish numbers. I would definitely travel on one of those buses again and would even consider the 20 hour bus journey between Buenos Aires and Mendoza to avoid waiting in airports.
We weren't actually staying in Tucuman, we were met on arrival by Pedro and Carlos who were our driver and guide for the next couple of days from Tucuman to Cafayate. On our way out of Tucuman, we drove through a random town of Familia, which has small replicas of important buildings around Argentina and also holds the National Empanada festival every March-April. According to Carlos and Pedro, Tucuman makes the best Empanadas in Argentina, not surprisingly they are from Tucuman.
Tucuman was down in the plains with lots of sugar cane and tobacco growing, it is one of the main sugar producers of Argentina. We then drove up through rainforest along the Sosa river on the road of 194 curves, climbing over 2000m. At the top, we came out onto what looked like the rolling hills of New Zealand surrounded by green pastures. It didn't seem right after climbing so high and passing through rainforest to get here.
This is where the small town of Tafi del Valle sat behind Lago Angostura.  Our driver Pedro was a bit of a funny man and even with his limited English could still pull out some amusing jokes. The best being as we drove into Tafi del Valle where there is a line up of an assortment of superheroes with Pedro asking which one is missing, turns out the superhero that is missing is TucuMan!
Here we were staying at Estancia las Carreras outside town where we could ride horses, milk cows or make cheese. Of those, the only one we wanted to do was make cheese, but the machine was broken, so we opted for a walk around the farm with one of their dogs. While wandering we watched as one of the farm hands lassoed the calves and castrated them. The dogs were happy as it meant they got fresh mountain oysters, we weren't offered any though.  We made it back just as a thunder storm hit that gave the most amazing light after it passed.
The following day we travelled up over Abra del Infiernillo, at a height of 3020m. As we dropped down to the valley behind there was another change in scenery with a more arid landscape and the number of cacti steadily increasing. These cactus only grow 1-2cm per year so most of them were hundreds of years old. In the bottom of the valley we literally drove in circles around the square of Amaicha del Valle, which is famous for it's Pachamama festival in February. They choose their oldest lady to represent Pachamama (Earth mother) and then get completely drunk.
The next stop was the Quilmes ruins, which was a massive walled city and fortress dating from about AD1000, which had up to 5000 inhabitants.  It managed to last through the Inca invasions only for the remaining inhabitants to be shipped off to Buenos Aires by the Spanish in 1667.  Some of it has been restored and you can walk a large area of it, climbing as high as you like on a number of tracks.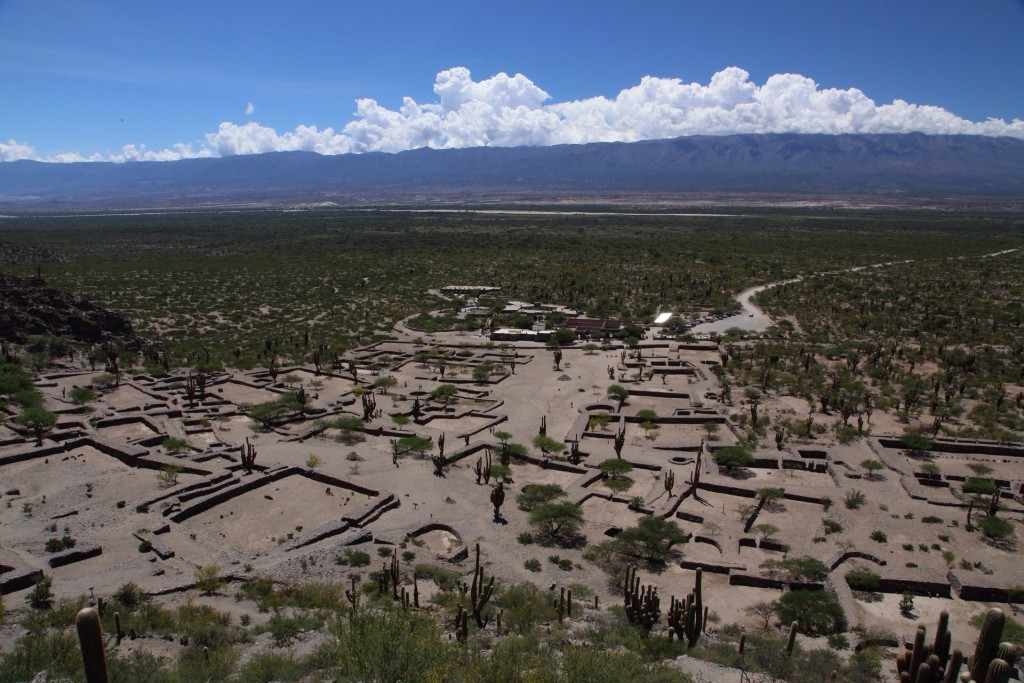 Before we left the Tucuman region we stopped at their first, and only, winery, Arcas de Tolombón. It opened in 2010 with the owner designing the three winged building. Here we saw the egg fermenters we had heard about in Mendoza and are used for trialling small batches of wine. We tried their Siete Vacas (seven cows) wines, but unfortunately we didn't particularly like them, they just lacked flavour.
We stopped for lunch on our way into Cafayate at El Parador del Tolombón where we were able to have our first taste of Llama meat in a local stew. It pretty much reminded me of lamb and was quite tasty. I think Pedro had thought we would be a bit squeamish about eating it since we thought the Llamas were so cute, but it is the same I feel about lamb, they are cute, but they taste good too.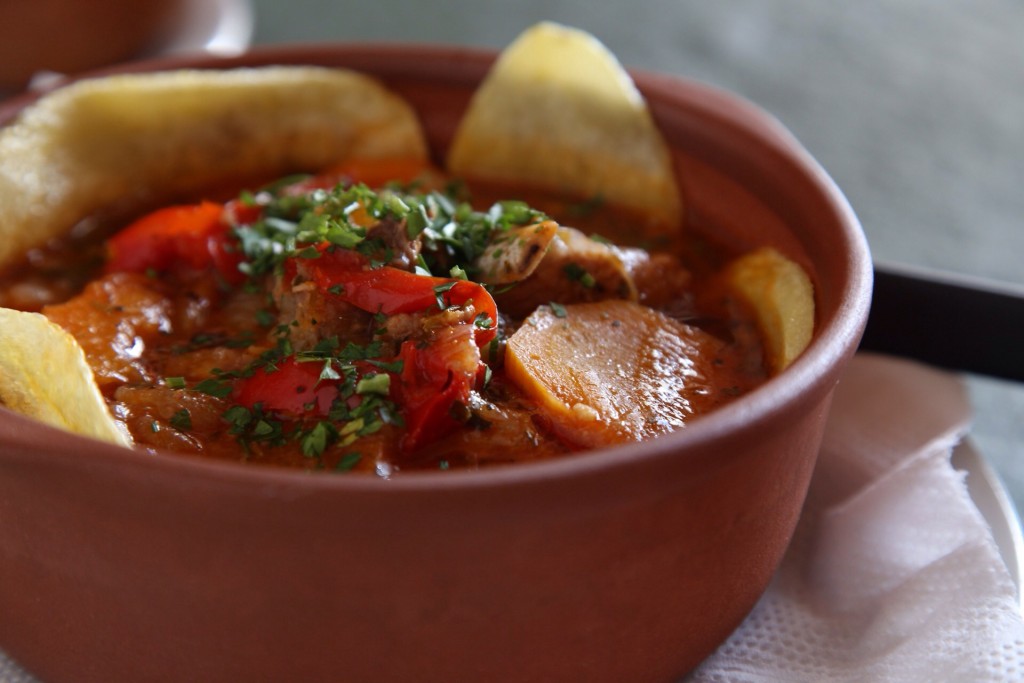 At Cafayate we said 'goodbye' to Pedro and Carlos and went off to explore the town ourselves.