I was never sure I really wanted to go to the Amazon, not because I wasn't intrigued but because I'm a very tasty treat for mosquitoes and didn't want to be eaten alive. Insect bites have ruined many places for me and I thought they could do it here too. Given this trip was a once in a lifetime experience I couldn't let a bunch of little insects limit my options so we agreed to head into the Ecuadorian Amazon for a few days. Gary, from Latin Links, had organised our trip to Yachana Lodge, situated on the edge of the lower Napo river.
We first had to fly from Quito to Coca, only about a 30 minute flight, and were then transported to the lodge by motorised canoe. The flight was so empty we could have had an entire row, if not two, each and most off the passengers appeared to be going for work related to the oil industry in the area rather than tourism. Once we were passed our bags, there is no luggage carousel in Coca, we were met by our guide, Kevin. With our luggage, guide and transfer coordinator, we piled into a couple of taxis and headed off to the marina to catch our canoe. There was one slight hitch, as Kevin pointed out our canoe it freed itself from the mooring and started to float backwards down the river with no one on board, not even the captain. This may have significantly delayed our trip to the lodge, but luckily the boat was caught by an eddy that moved it back into shore rather than out to the main current.  It gently floated back in parking beside a barge down river slightly without any damage. The captain rejoined his boat, brought it back up to the dock and we all clambered onboard.
We were the only guests heading into Yachana lodge so had free reine of the canoe with great views from the front. There was so much water the river was a murky mud colour and smelled like freshly turned dirt. The forest canopy had great variations in height and came right down to the river edge. Kevin pointed out a variety of birds, giving us binoculars to get a better look. Many dugout canoes were pulled up on the banks indicating the locations of small villages and family units. The locals were going about their everyday tasks, fishing, washing and ferrying to and from school and nearby villages, they had amazing balance standing in their canoes, I struggled sometimes in our monster.
About two hours later the canoe was taken into shore where we were then loaded into a truck for our final variation of transport to the lodge. We bounced along the gravel road for about 20 minutes before turning into Yachana lodge itself. I wasn't sure what to expect, it sounded amazing in the descriptions on the internet but you never know how it will turn out. Everything was surrounded by forest and flowers with paths taking you from the truck stop to the 14 individual cabins. We had two cabins and even though we had a lovely view over the Napo river, the most exciting thing was the composting toilets that meant we could throw the toilet paper in the toilet. Glass wasn't used in any of the windows, just a fine mesh to keep out insects and hopefully allow air flow to cool things down. Hammocks were hanging out on the verandahs, but I was paranoid about insects, even though they weren't that bad and preferred to relax inside our cabins.
In the afternoon we met Kevin for our first rain forest walk, with our assigned gumboots and rain ponchos. We were walking to the tallest kapok tree (cotton type tree) in the forest that the locals call 'the king of the forest'. For it's height it has insanely shallow roots that spread out like fingers from the trunk and stretch out on the forest floor covering massive areas. A weird aspect of the trees in the rain forest is they have no rings to indicate their age, but everything grows quickly so most of them are pretty young anyway and even this 'king' was only about 20 years old. Kevin pointed out another type of cacao that is believed to be older than those used as Mayan currency indicating that cacao was discovered by Amazon communities even earlier than commonly thought. We passed an area where there could have been sloths up in the trees, which are particularly hard to spot, but even Kevin couldn't spot any unfortunately. Our sense of direction had been completely thrown while walking in the forest and we suddenly popped out back at the lodge.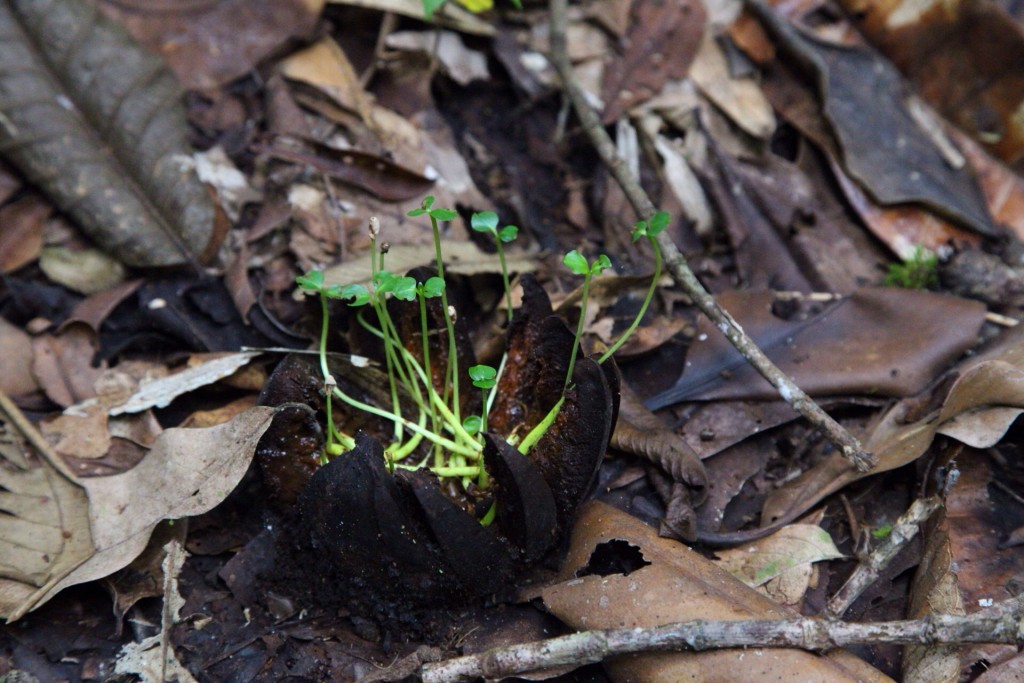 The restaurant area at the lodge was completely open, giving an unobstructed view over the Napo river, but protected by a conical thatched roof. This is where we would enjoy all of our meals, generally joined by our guide Kevin and often by the owner and brains behind the Yachana foundation and lodge, Douglas. There were absolutely no other guests during our stay, the staff outnumbered us two to one, making us feel slightly guilty but then they would have been there anyway, so at least we were providing some income. Most nights we had another guest come join us at dinner, a young kinkajou (sometimes called a honey bear) the staff had rescued from a cage a couple of days prior to our arrival. She was so cute and cuddly and particularly enjoyed drinking from our glasses. Her tail enabled her to move like a monkey and she became more cunning at getting into the kitchen over our stay.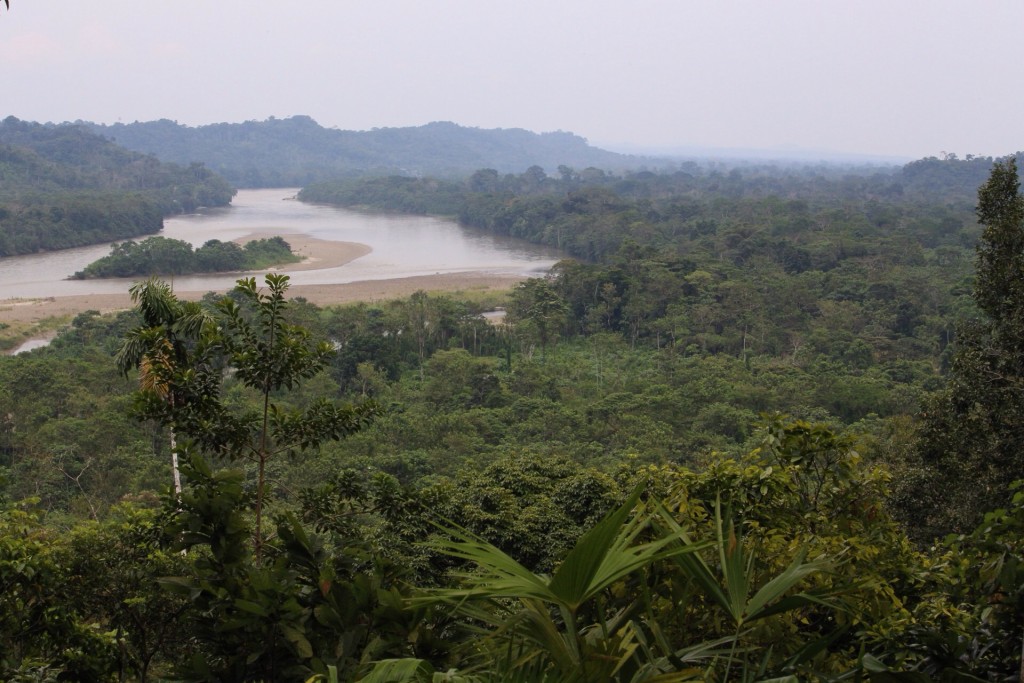 Yachana is the Quichua word for learning and Douglas, who came from Kentucky originally, set up the trust almost 20 years ago. In that time it has undergone a variety of changes generally as a necessity because of governmental changes. A large area of land was obtained by the trust to regenerate rain forest, which is also where the current lodge has been developed. He had set up a high school in a nearby community, which Kevin had attended as a student himself, where students could learn more practical subjects such as tourism and cookery, with the original lodge nearby there also. There had been a medical centre and a variety of local communities projects, one developing cacao farms. A change to curriculum requirements meant the high school was closed and now a new learning based project has been started at a new site near the current lodge.
Our first morning we had an early wake up, weather dependent, for our bird watching trip in the truck. If it had been raining we would have got a sleep in, but as we rose there was no rain, so off we went. Unfortunately as we were out, the weather wasn't being so kind to us and not only did we get rather wet, but the bird watching wasn't particularly successful as the birds were all hiding from the rain also. The rain ponchos might have looked ridiculous, but they certainly provided good protection to ourselves and our cameras.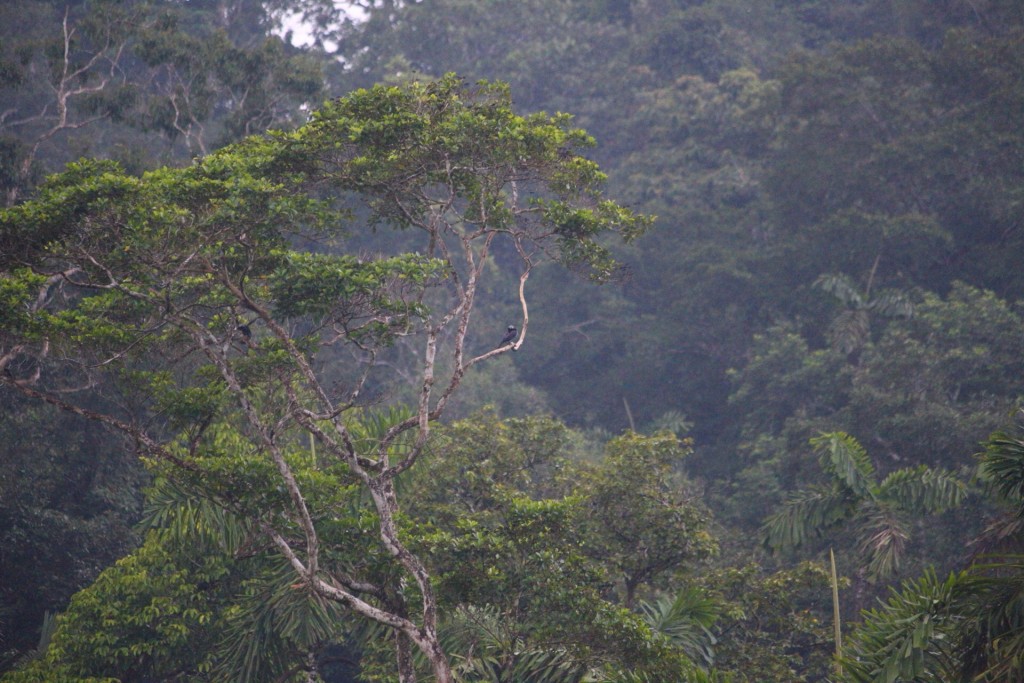 After breakfast the rain stopped long enough for us to go out and walk through an area of primary forest. The difference between primary and secondary forest is that the former is unadulterated forest whereas the later is regenerated from other uses, such as farming. There was an amazing variety of palms including some that are considered 'walking' palms because they move to the sun by growing their roots out in the direction they want to move. We spotted a variety of insects and then Kevin convinced us to never try staying out in primary forest as he described a hideous flesh eating experience that he encountered after being bitten while sleeping with his arm out of cover. I'm pretty sure we walked even faster after hearing his story. As we drove back to the lodge we passed many workers who were out clearing the trees and palms under the power lines using only machetes.
The rain returned as we arrived back to the lodge and we started making our own jungle chocolate. We had learnt a lot about chocolate at the Chocolate Museum in Cusco, but here we learnt even more about the primary product and the drying process. Prior to drying, some beans are fermented after being removed from the pod, similar to the wet process of coffee, which gives a more interesting and intense flavour to the final chocolate. These were the type of beans we were using, having been bought from a local grower. The roasting and shelling were the same, but here we used a hand cranked grinder that was a lot more efficient, and easier, than our hand ground attempts in Cusco. One slight hitch was that we were then supposed to blend the cacao paste with some sugar and hot milk to make our jungle chocolate, but the power was out at the lodge, probably due to the clearing work being completed, and they couldn't get the generator going. No one was too keen to try doing it by hand with a whisk, so we decided to try later in the day, hoping the power would come back on.
Lunch wasn't a problem, since the kitchen is all gas, and then we went off to visit the new learning centre of the Yachana foundation. It really was an area for Douglas to trial all sorts of interesting ideas and have the students involved in the process so they could use the ideas or processes back in their own communities. They were currently building a hut experimenting with the use of the growing wall both inside and out using wool batting and natural liquid fertiliser using the student's urine, among other things. There was also a just completed aquaponics (a combination of aquaculture and hydroponics) area where they were keeping tilapia fish with the water being constantly circulated into the growing beds providing fertiliser to the vegetables etc. and cleaning the water to be returned to the fish. The fish would then be moved to another pond once they were a certain size and used for food and producing more fish. A couple of things they were particularly proud of, the computer studio, which happened to be the only building that had glass in the windows, and the banana circles, which were a way of composting and fertilising at the same time. We were shown these areas by one of the students, who wasn't particularly confident with his English, but as Kevin pointed out, English was his worst subject at high school and now he feels completely confident and is now a very good guide. Many of the guides also work at the learning centre when they aren't guiding at the lodge and there are a variety of volunteers who help out also.
By dinner the power was all go so we finished our meal with our freshly made jungle chocolate poured over little finger bananas. It was absolutely delicious and so easy, particularly with a grinder and electricity. The kinkajou was pretty keen on our dessert too so we all scarpered into the kitchen once we managed to disentangle ourselves from her, but then we were stuck as she laid in wait over the door for us to open it.
Our last full day at the lodge was a busy one, and again, it started with rain, but we were in the Amazon rainforest during rainy season so what else would we expect. We headed off to a local farm to collect ingredients for our cooking class that would become our lunch. The farmer, Nilo, met us with machete in hand to go pick our ingredients. Everything seemed to be scattered all over the place with such a variety of produce. We found the most humongous grapefruits ever that Kevin peeled with the machete, there was robusta coffee growing throughout the area, finger bananas were hanging off the palms, and Nilo had a nifty knife on top of a long stick to cut down fresh papaya for us to eat. As we wandered through the variety of plants and trees on the farm Kevin introduced us to Dragon's Blood, a tree sap, which is used in all sorts of concoctions but is also very good on scars and insect bites, so we all gave it a go on whatever ailments we found on us. We sucked on fresh cacao beans, ate rambutan straight from the tree, consumed fresh ginger and Nilo tested our tasting skills giving us small samples of stevia. He had a load of corn drying in his huts and a bunch of sugar cane that we tasted. The sugar cane was so sweet and juicy we now understood why they were making a drink from it in Colombia. Before we headed back to the lodge we needed some palm for the Heart of Palm dishes we were making and on the way we searched for some Chonta grub from the chonta palm, a local delicacy. Once we had collected our ingredients we returned to the lodge for our cooking class.
The whole point of the cooking class was learning about the lost food of the Amazon. We made a hot salad of boiled stinging nettles chopped and mixed with lemon juice, and another of heart of Palm and carrot fried with butter. Local tilapia fish was wrapped in stone leaf and baked, boiled yucca were chopped and fried as chips, while the finger bananas were dipped in batter and fried as dessert, called Embarraabo. Our efforts were then also accompanied by a Sancocho soup of red beans, yucca, plantain, onion, and dill and a local Guayusa tea using local herbs. Everything was absolutely delicious and it was lovely to see it come from the farm all the way to our plates.
Following lunch we ventured up river to a local family and their witch doctor. It had been raining a lot since we arrived in the Amazon and the river had been rising constantly. Boarding the boat to head up river was slightly precarious compared to when we arrived, but disembarking at the local community was somewhat hazardous while we clambered from our boat into a dugout canoe and onto dry land. There was a large pot of yucca boiling in the communal cooking area in preparation for our visit. Many of the family were out at church, but we were treated to the witch doctor ceremony including smoking of a jungle cigarette to cleanse our spirits. I think we were too busy giggling for much cleansing to happen, but it was an experience. After we had gone through this process we then attempted to use their two main weapons, the blow pipe and the spear. Clare managed to hit a papaya using the blow pipe, but generally we all sucked so wouldn't last long if this was our way to hunt. Up in their family rooms we were then shown the process of mashing the boiled yucca which is then fermented to make Chicha. Again, we weren't much help and even when it came to drinking it we were worse than useless. It is rude not to consume the whole bowl of Chicha that is offered to you, but it really wasn't a taste we could stomach, so poor Kevin had to finish it all off, good thing he wasn't driving the boat back to the lodge. We met the remainder of the family as they returned from church and then clambered back into the boat for our return to the lodge with the captain skilfully avoiding the multitude of debris floating down the river.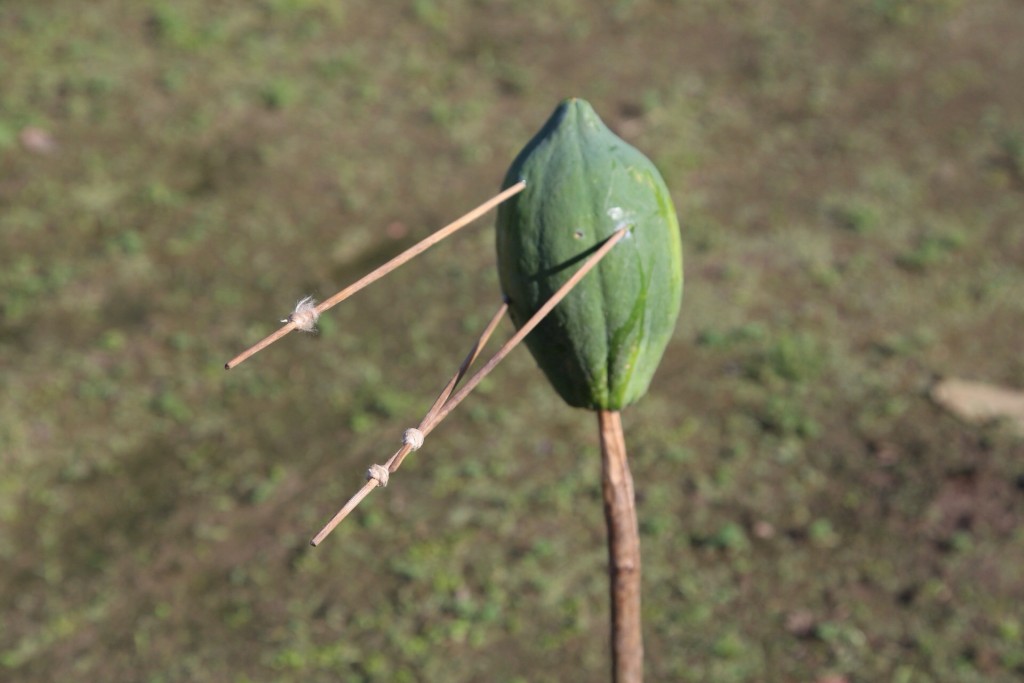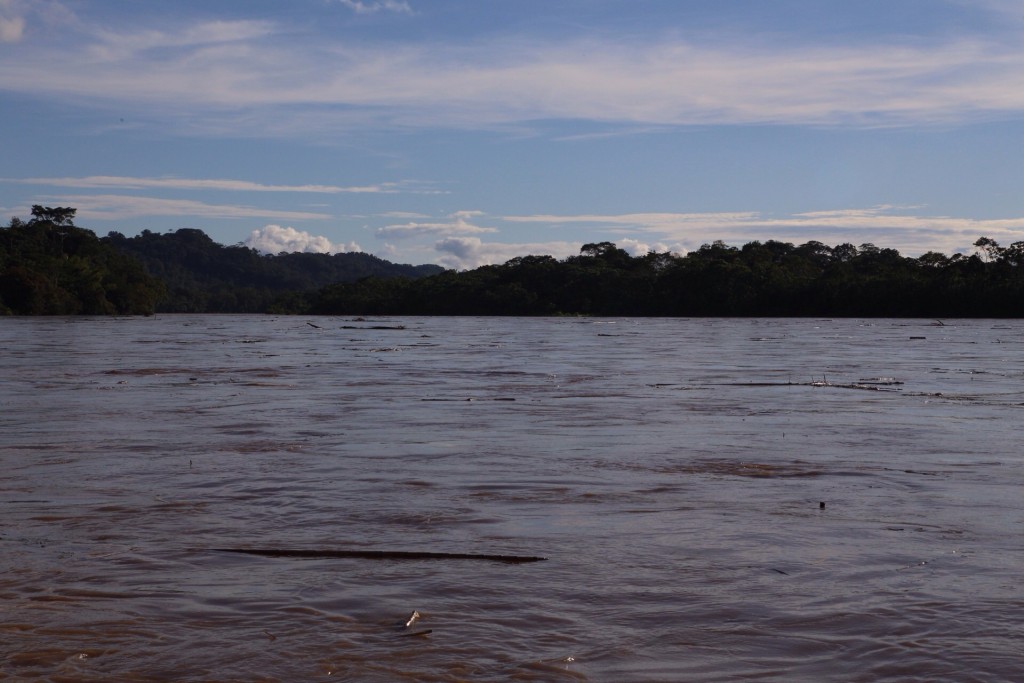 Our last activity at the lodge was a night walk in the forest. I don't think any of us were really looking forward to it, but we had to give it a go. It didn't really help when Kevin pointed out areas where snakes often were or that certain spiders we passed were particularly good at jumping as well as being poisonous. He was particularly keen on finding us the Scorpion spider, which we had almost got away without finding, until I pointed one out. I'm glad we hadn't run into it ourselves. The walk back to our cabins was markedly faster than on our way out, as we now knew what creepy crawlies were around and then to finish us off, we found a scorpion on our path. We made sure all our doors and windows were well shut and hoped nothing had followed us in from our walk. Since we were heading out of the jungle the following morning we hoped for a good night's sleep, but suspected it could be somewhat disrupted with dreams or possibly nightmares.
The trip back to civilisation was another early start, followed by the bumpy truck ride and the long river meander back to Coca. As it hadn't rained for a whole day the river level had dropped slightly and there was significantly less debris than the previous day, so the trip was less precarious with markedly less obstacles. Kevin had been a fantastic guide and our time at Yachana lodge had been a fantastic learning experience for us, plus I hadn't been eaten alive by insects. Douglas has such a passion for what he does and encouraging the communities around him that it is difficult not to be enthralled by it all. I just hope they can find a way to keep it all going and provide such an amazing experience as we had or for those who come as volunteers.