Arriving in Cuenca after the Galápagos was another drop in temperature and jump in altitude. It was only 2500m, which now seems pretty low, but we were beginning to feel like yo yo's. The only thing we knew about Cuenca was that this is where we were going to get Panama hats, but given that we were in Ecuador and not really near Panama we did wonder where the name came from. We would have this cleared up when we visited Homero Ortega factory and museum of hats. Originally Panama hats were called toquilla straw hats, but during the time that the Panama Canal was constructed it was common for the workers to wear these hats and so became known as Panama hats. It is such fine, intricate weaving that is done by locals in surrounding villages and then finished at the factory. Here they would bleach them, using only hot water and salt, shape them and finally add ribbons etc. The fineness of the weaving is pretty much what dictates the cost, but even the cheap ones here were pretty expensive and pretty boring.
Our guide, Baulio, took us up to a lookout over the city where he further explained about the city. When looking over the city it supposedly has a circular shape while sitting in a valley. This theoretically makes it quick to go anywhere in town. It is also considered a small city of 500,000 but has a vastly increasing population of US expats moving there for retirement. Locals don't like it much because it is driving up house prices, but the expats love it because they get relatively cheap housing and vastly cheaper health care with a bonus of still using the US dollar. The only thing delaying the onslaught of expats is the different language, but some don't even care about that.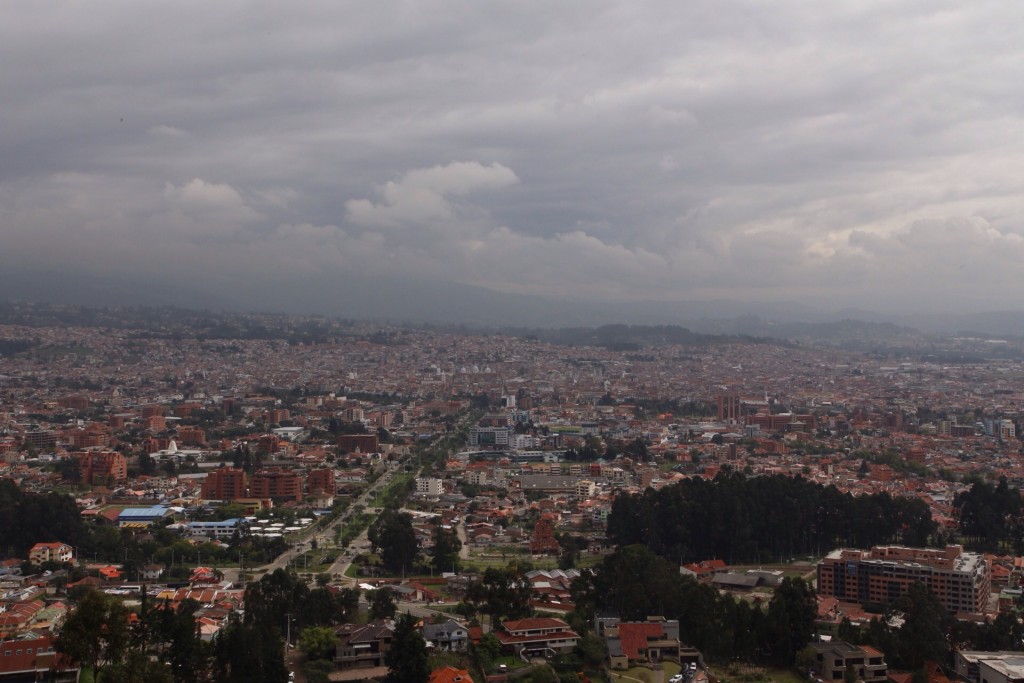 While taking us back into town, we stopped at a typical Ecuadorian restaurant where they roast pork with a blow torch. It is a massively long process to get it finished to the dark, crispy exterior they expect. There was roasted Guinea Pig and other roasted food also, but Braulio discouraged us from trying anything as our stomachs weren't used to it and who knows what could happen.
He then took around the central parts of town walking by the river by the Barranco area where the houses extend four floors down from the front street level. The river was certainly a multi use area with British tourists (we stereotyped) sunbathing on the banks, even though it wasn't particularly sunny or hot, and then some Argentinian backpackers (another stereotype) camping on the other bank, neither of the activities being particularly normal for the area.  We visited the local market with it's two floors of everything you could conceive of wanting, including a herb they use as an alternative to coca leaf to help with altitude. I kept looking at all the cooked beans and corn considering all the aspects of food safety they go against. It would take a while for my digestive system to toughen up to their style of shopping and cooking. They had a small flower market around the corner with the arrangements already made up.  There were a few interesting buildings to visit, one that is owned by the university and is used to educate students on how to restore the old buildings. We managed to limit the number of churches we went into, not completely avoid them and generally found their exteriors more interesting than the interiors.
The rest of our time in Cuenca was used looking for interesting Panama hat shops and good food. Both we found quite close to our hotel so we were happy. We found a lovely old gentleman set up in his workshop with the traditional workbench and many hats hanging from the ceiling. We weren't even sure we could buy hats there, but were taken through the back of the shop, up some rickety stairs to their small shop area to try them on. There were other good hat shops around, but his had the most authentic feeling.
In terms of food we found a great steak restaurant near us, La Esquina, that did a fantastic shared meat dish served in a cast iron dish, supposedly for two, but easily fed the three of us. The best part of the meal was talking with an inspiring older lady, who is one of those expats the locals complain about, but so did she. Her life seemed to be experiences of rebelling against the expected norms and then flourishing. Even here in Cuenca she was pushing herself to learn the language so she can interact with the locals rather than rely on the expat community for support. Another great food related find was a little coffee shop down the road that made the best coffee we had had in a long time, we even managed a run there in the morning before we headed off with Braulio to Alausi.
Our trip to Alausi was broken up with a stop at Ingapirca where there was yet another example of Inca engineering and the Spanish destroying it, but it also highlighted how the Inca had also come in and taken over another culture, the Canari. The Inca had only briefly lasted in the area before the Spanish came in, so there was the Canari moon temple as well as the Inca sun temple. When the Spanish had defeated the Inca they planned on using the stone to build their own town, but realised it was too much of a puzzle and the rocks were left lying, they have now been arranged neatly, but you can see why the Spanish gave up on their idea.
Alausi was really only a stop off on the way to Quito, but with the added bonus of a quirky train ride thrown in. Here was the restored Devil's Nose railway that descends 600m between Alausi and Sibambe. The valley is so steep that the train line zigzags down the side of the mountain, but instead of curving around it changes direction to keep the gradient manageable. At the bottom they have a variety of local entertainments happening including morning tea. You then turn around and head back up again. It was interesting to do as a side, but I wouldn't make a special trip to do it.
We then carried on to Banos, but to have really experienced Banos we would need to have had more than one night here. We just made the most of our hotel perched on an active volcano. If the weather gods had been nice, we would have seen steam coming out top. The cafe had an amazing view over the town of Banos and the surrounding mountains and it was a popular place for people to walk up to, we rather appreciated not having to. They had a series of hot pools we could relax in, which we're not particularly good at, but we were kept entertained by a random couple that posed around taking photos of each other, the only talking appeared to be directing what photos to take. We were sure they would have to have proper conversations at some point, but were proven completely wrong at dinner when he constantly played games on his phone and she either looked at photos of herself or took more photos of herself. It was a lovely place to chill out, but we can't really say we experienced Banos proper.
We took off early the following day to finish our drive to Quito. This whole area is surrounded by volcanos, but unfortunately we started our day with our head in the clouds and the mountains continued that way. Very near to Quito is Cotopaxi volcano, which is Ecuador's most famous volcano but only their second tallest mountain at 5897m. The surrounding area has been designated a national park and there are different activities and viewpoints you can visit. Given the clouded in nature of the volcano we didn't see much point in heading up higher to see even less so we went for a walk around Laguna Limpiopungo to see what wildlife was around and hope the cloud might clear for a view of Cotopaxi itself. As we drove into the national park we picked up a local guide, Doris who had fantastic knowledge on the flora & fauna of the area even introducing us to a plant that smells exactly like chocolate but can't be used in anyway that results in any chocolate flavour. There was quite a lot of bird life around and we were fascinated by the caracara chasing each other because one had managed to catch something. When we had almost finished our walk, there was a small clearing in the clouds and we could see part of the top of Cotopaxi, not all of it, but at least we had seen something. An hour or so later we made it to Quito for our brief night stay before heading off to the Amazon.