This was another key activity of our South American travels.  It was the first thing we booked and so long ago that it almost felt like it was never happening.  Everything pretty much started in Guayaquil, because that is where we flew from and there wasn't any other reason to be here.  It had a cute historical area, but not really much else to see or do.
After having our bags checked and approved to go to the Galápagos we met an Ecoventura representative, who gave us our boarding passes and boat name, Eric.  I'd never really thought how far off from the mainland the islands actually were, but after a couple of hours flying we landed in San Cristobal and were finally in the Galápagos.
I really had no idea what to expect, I had never done any type of organised cruise and was worried about the group we would be with.  We met our guides, separated into our boats with the 17 other people we would be sharing this experience with and bussed to the wharf to get acquainted with our boat/home for the next 7 nights.
Following lunch we headed back to San Cristobal to visit a local beach, La Loberia.  Here we could go for a swim and watch the sea lion pups play.  The water was lovely, clear and cool and you could see many small fish swimming around in schools.  It was our first introduction to Galápagos wildlife and everything was fascinating.
We returned to our boat, Eric, for our welcome cocktail and introduction to the crew.  Then, as would become the routine for the cruise, following dinner we pulled up anchor and set sail for our next destination, Genovesa Island.  This would be our first crossing of the equator and funnily enough, we didn't feel the bump as we went over it.
The next morning we were woken by the dulcet tones of one of our guides, Adrian, "time to get up, it's a lovely day".  It was much nicer than any alarm and I wish I had recorded it so I could use it that way.  We were now anchored in Darwin Bay ready for the day's adventures.  Our first activity was a wet landing onto the beach to see a variety of birds.  Here we were hoping to see our first ever boobies.  They didn't disappoint, there were both red footed and Nazca boobies as well as a couple of their fluffy young chicks.  There were also lava gulls, swallow-tailed gulls, frigate birds and other little birds darting around or more majestic birds posing on rocks.  The male frigate birds trying to attract a female was a sight and sound to be seen.  As a female flew overhead they would puff out their red necks, hold their wings out wide and make an odd woggleoggeling noise.  None of them got lucky while we were watching, but others had previously and were happily setting up nest with their partners.
Prior to heading back to the boat, we had our first chance to snorkel.  It was so nice to be in the water but the snorkelling wasn't that amazing, it was more of a check to see how we all coped with it before we did a deep water snorkel.  Someone spotted a small white tip shark near us and there were many parrot fish.  The nearby sea lions came out to play, even swimming around Fiona as she tried to get out of the water.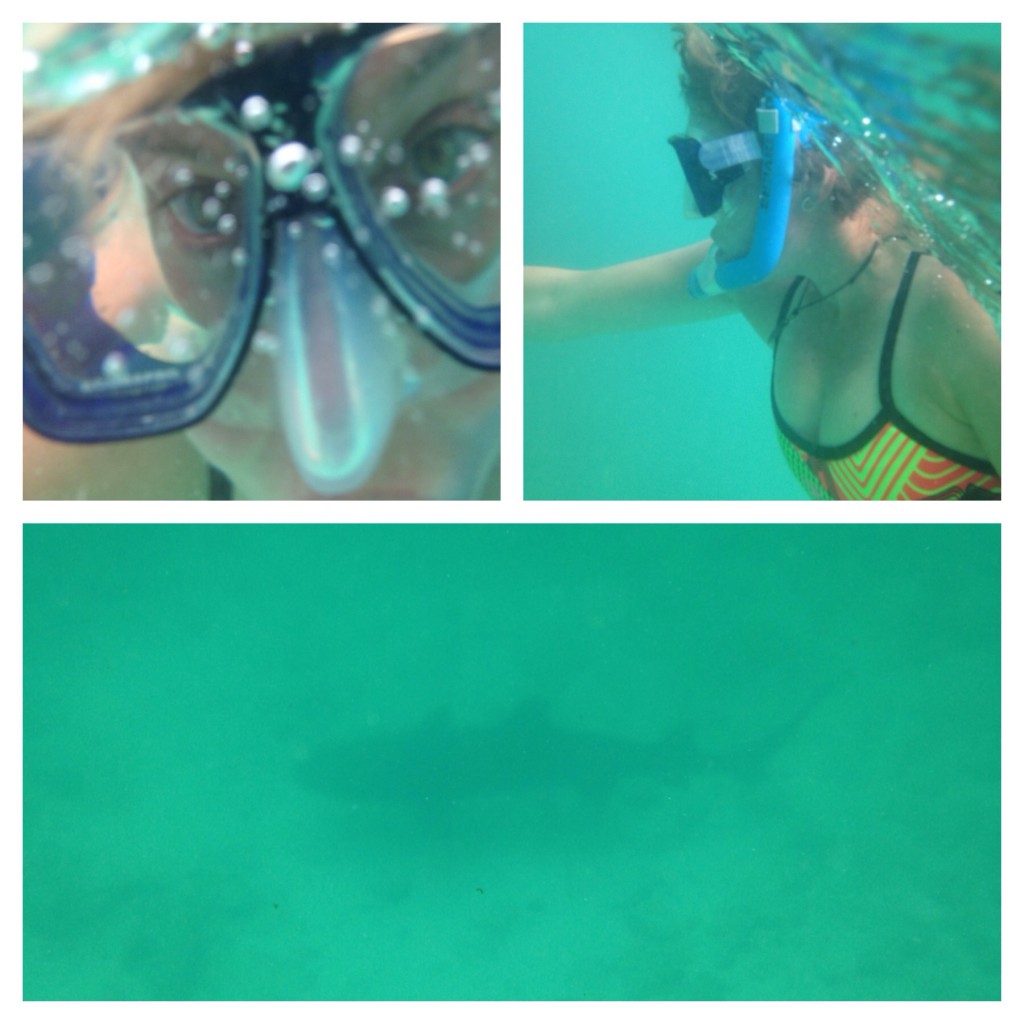 In the afternoon we went up Prince Philip steps, carved into the cliff, in search of the short eared owl.  We saw even more frigate birds and red footed and Nazca boobies happily living together around the rock.  The dark coloured rock was going to make it difficult spotting the owl and without our guides I would have missed it down the crevice.  As we left the boat, the weather was beautiful and we couldn't see a cloud in the sky, but while we were out searching, the sky darkened and many birds started flying away, apparently the frigate bird's feathers aren't waterproof and they like rain less than we do.  The rain hit with large, heavy drops that soaked us in seconds, it really didn't matter if you had a jacket, it all soaked through.  There was no way this rain was going to clear anytime soon so we all sloshed back to be picked up by the zodiacs.  As we arrived back at the boat, our bedraggled, drowned dog look got the largest smile from Hugo (our barman) of the whole trip.
Another night of sailing delivered us to the northern side of Santa Cruz island at Black Turtle cove.  Here we were taken in the zodiacs, for what they called a panga ride, around the cove.  The hope was to see blue footed boobies and it appeared they had put on a convention to ensure we did.  There were so many and more just kept flying in.  It was spectacular and even our guides were amazed by the sight.  The zodiacs were piloted in and around the red mangroves that were throughout the cove.  We saw golden rays swimming around under the boats and once in a while a sea turtle would pop it's head up.  Pelicans were swooping around in search of fish and diving with spectacular splashes.  By the time we left the cove, the blue footed boobie convention had finished with only a couple of stragglers still around. We had been so lucky.
While we were having lunch and our afternoon siesta our boat moved further to the west of Santa Cruz Island to Dragon Hill.  We were heading out to do a 1.7km walk followed by some snorkelling.  This was the one place we may see flamingos and we did see a sole one, quite a change from the massive number we saw in Bolivia.  There were a few marine iguanas lazing around.  Every so often you would hear a loud spit, something to do with clearing their salt glands.  As we walked further around the trail we came across the land iguanas.  The first we saw crunching slowly through the dried twigs and leaves off to the side of the trail while the remainder were pretty much in the middle of the trail.  The males are a fantastic vibrant yellow with the texture of their skin almost looking like corn on the cob.  They are easy to photograph as they just don't move, sometimes they'll move their head sideways or do a wee bob.  We saw a few lava lizards, which were a bit faster moving, but still weren't really bothered with us.
The following morning we arrived at Fernandina Island having passed around the top of Isabela Island overnight.  It had the distinct shape of a volcano with the black volcanic rock right down to the water.  As we took the dinghies into shore you could see the marine iguanas swimming in also.  They just looked wrong, with their heads poking out of the water they looked like a fairytale monster.  Landing onto the volcanic rock was treacherous, slippery and very slow going.  We kept stopping to take photos of the marine Iguanas while our guide, Marta, kept telling us we would see lots more soon.  She wasn't joking, they were spread out all over the rocks on top of each other with more swimming in to join them.  Their faces almost looked Orc like with the white salt on their heads from spitting at each other.  There were baby iguanas and even one sea lion pup who appeared to believe he might be one of them also.  As we walked around further we saw the flightless cormorants with their stumpy little wings that aren't much use other than helping them hop.  It was hilarious watching them as there appeared to be one male with two females he was collecting seaweed for their nests, a grumpy female who was pissed off that her partner hadn't come back yet and an amorous courting couple trying to decide whether to build a nest together and where.  There was a collection of bones laid out in the sand, including whale.  As we walked to get the dinghies back to the boat we saw the canabilist nature of the Sally Lightfoot crab.
We went for our first deep water snorkelling off the dinghies here, it was fantastic.  We started where we saw some penguins swimming along the water.  Once in the water you had to be quick to spot them, they darted so easily and swiftly through the water.  Then there were the sea turtles that moved so majestically, it looked effortless.  And again there were the marine iguanas.  On top of the water they looked wrong, under water it was even weirder.  I couldn't believe they would be able to dive, but there they were feeding off the seaweed on the rocks at the bottom.  This was the best deep water snorkelling we had in the Galápagos.
After lunch we went for a walk at Urbina Bay on Isabela Island, having sailed there while we had our siesta.  Here we were finally going to see the giant land tortoises.  We found six on our way around the short trail.  Their eyes looked old, like they had seen so much and the way their feet lay out to their sides made them look so soft and gentle.  They handled our attention well and would slowly move their way along the same trails we were walking.  A small amount of rain fell making their shells shine, but also providing them with the protection we could have used on Genovese Island.   Before heading back to the boat a few of us had another snorkel where we saw a sea snake, it was very little so not menacing at all.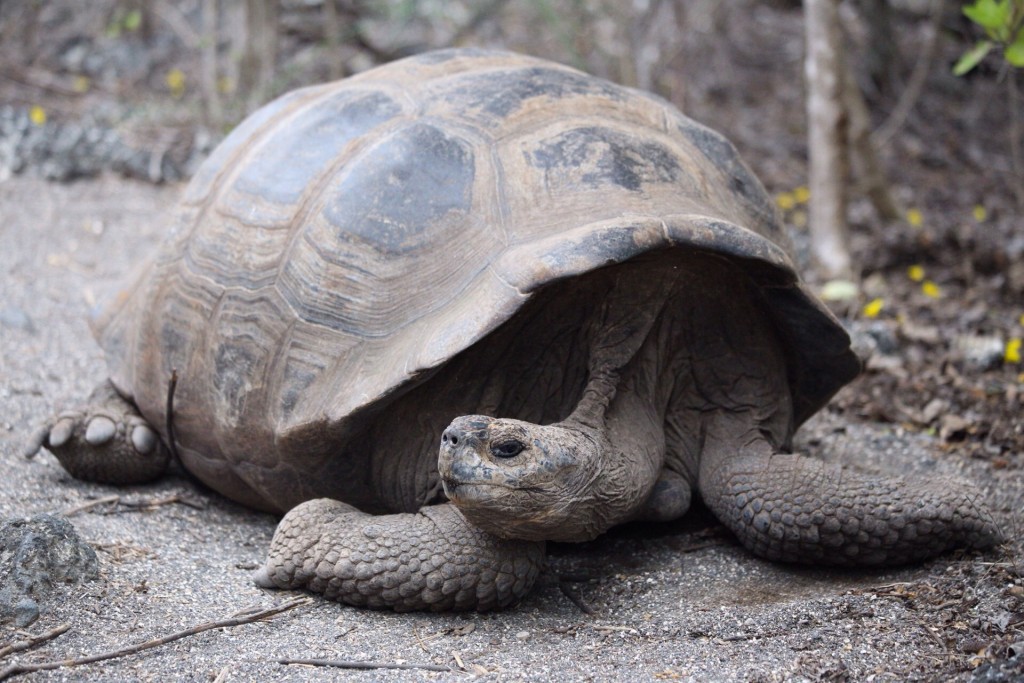 While we were away in the Galápagos Islands, four of the guests had their birthdays and another guest and one of guides very soon after.  They used this as the excuse to have a party this evening, but really they do it on this night every trip because we're weren't actually moving overnight.  It was quite hilarious watching the difference between the easy salsa movements of the Latin American crew and the uncoordinated wiggles of most of us.  One of the chefs, Sergio, tried to help us with our salsa technique, but I think I still looked like a sea lion moving over the rocks.  Everyone had a great night and it was a nice way to break up the week.
Since we had already moved to Elizabeth Bay, even the crew got to sleep overnight for a change.  It was odd not having the constant thrumming of the engine, but I don't think the quiet disturbed our sleep.  We had another panga ride into Elizabeth Bay and the mangroves.  In the mangroves we were actually searching for the monkey sea lion, which is another sub-species of sea lion that sleeps in the mangrove branches.  It was a little like looking for a needle in a haystack as they blended in so well, but we did manage to find one laid out on a branch.  We saw a few more sea turtles, Sally Lightfoot crabs and herons, but back out in the bay, a bit further from the mangroves, we saw the most action.  Penguins and pelicans had found themselves a good feeding spot.  The pelicans would often come up not only with fish hanging out their beak, but often with a penguin attached to the fish as well.  There were quite a few juvenile pelicans that appeared to be learning to dive, they certainly didn't have the grace of the mature birds.  It would have been easy to stay there watching them and trying to get perfectly timed photos of their diving, but we had to move on to the next spot on Isabela Island, Targus Cove.
While we were on our way the crew had to carry out a rescue exercise mimicking a man overboard.  I would have been much happier to have had to wait to be rescued here in the Galápagos compared to when we saw it being done in Patagonia, the water was so much warmer.  We went out for a kayak around Targus Cove spotting some blue footed boobies, flightless cormorants, sea lions and sea turtles while also trying to figure out the variety of ship names and dates of the graffiti on the surrounding cliffs.  I could never figure out how they managed to get up the cliffs to paint them and what they had used to prevent them fading for so long.  Here we had another chance to do some deep water snorkelling, it was supposed to be a good spot for penguins but they hid from us this time.  Instead we found star fish and even a sea horse, which was a bit harder to spot requiring us to dive down to see it.  Diving was a bit difficult with our wetsuits and salt water making us bob around high in the water and look like demented sea lions in the process.
As we left Targus Cove we immediately felt the swell, it was much larger than any we had experienced and left many of us in very delicate conditions.  While many of us were hiding down below, it was the one time some whales were spotted near us.  Luckily we had four doctors and one pharmacist on the boat so had a good selection of anti nausea medication.  Only half of the guests could stomach dinner and sleep was a welcome reprieve from the queasiness.  The sea calmed during the night and we woke to another beautiful day at Puerto Egas on Santiago Island.
Santiago Island was one of the larger islands of the Galápagos, also volcanically formed with amazing black sand beach and layered tidal pools.  Here we found more marine iguanas, many appearing to have lost the energy to remove themselves completely from the water, and watched the endemic Galápagos fur sea lion performing in the pristine aquamarine waters of the volcanic rock pools.  We had the best beach snorkelling of the whole trip here with beautiful clear, warm water and many fish, rays and marine iguanas swimming around with us.  This was the first time that the three Ecoventura boats were all doing the same thing at the same time, we had been so well staggered for everything else.
In the afternoon we visited Rabida Island with it's beautiful red earth. Here there used to be a freshwater lagoon, but is now used as the sealions' toilet and it certainly smelt that way.  There was a short trail up to a couple of viewpoints and back at the beach was another snorkelling option.  The red sand made the water very cloudy, but once you got further from the beach the water cleared and we saw more varieties of fish and a sea lion came gliding passed also.
Our last full day on the boat saw us at Santa Cruz Island.  It was our only non-snorkelling day and many of us were considering  jumping from the boat, unfortunately we were in the busy bay of Puerto Ayora with many other boats and it really wasn't that inviting.  This was the only Island, other than on San Cristobal, that we took bus trips.  We went off into the highlands of the island to visit giant tortoises living 'wild' in farms that are within the turtle sanctuary.  At a distance they looked like big rocks under trees or in ponds.  I had initially thought they had placed the shells in the pools as water features, but then saw a turtle wade into the sludgy water itself, proving otherwise.  When a tortoise decides you are too close they retract their head into their shells with a long, loud sigh as they expel air from their lungs. The farm we visited also had a lava tunnel you could walk through that was formed by the still moving hot lava passing through the lava that had already set on contact with the external environment.  It was interesting to see the different layers created as the lava set.
The afternoon found us at the Charles Darwin Research Centre, where Lonesome George stayed until his death in 2012.  Here is where a huge amount of work is happening to help conserve the different species of Giant Tortoise and through the use of gene isolation they have been able to breed the first Floreana tortoises that were extinct.  There is hope they maybe able to resurrect Lonesome George's sub-species in the same way.  The baby tortoises were certainly the highlight of the visit.  They were so tiny and cute.  We watched as one poor sod struggled to turn himself right way up again, with no help from his buddy, his poor neck was working hard to turn himself over.  It was also interesting seeing the difference in the tortoise species.  The saddleback struts around high on his legs and it is amazing how far they are able to reach into the shrubs for food compared to the dome shaped varieties that barely reach above their own shell.
Puerto Ayora is certainly the largest and most cultured town in the Galápagos Islands.  As we walked back to the dock we passed a number of good art galleries and jewellery stores and many tacky souvenir shops with a few bars and restaurants thrown in on the way.  The open fish market appeared to be even more popular with sea lions and Pelicans than people.  We had the option of staying on shore for a dinner out, but everyone decided to head back on board for our final dinner of the trip.  Before dinner we had our Captains farewell cocktails where our guides had prepared a slide show of our days together and presented us all with our new Galápagos names, I was now to be known as Lava Lizard, Clare was Sealion and Fiona was Marine Iguana.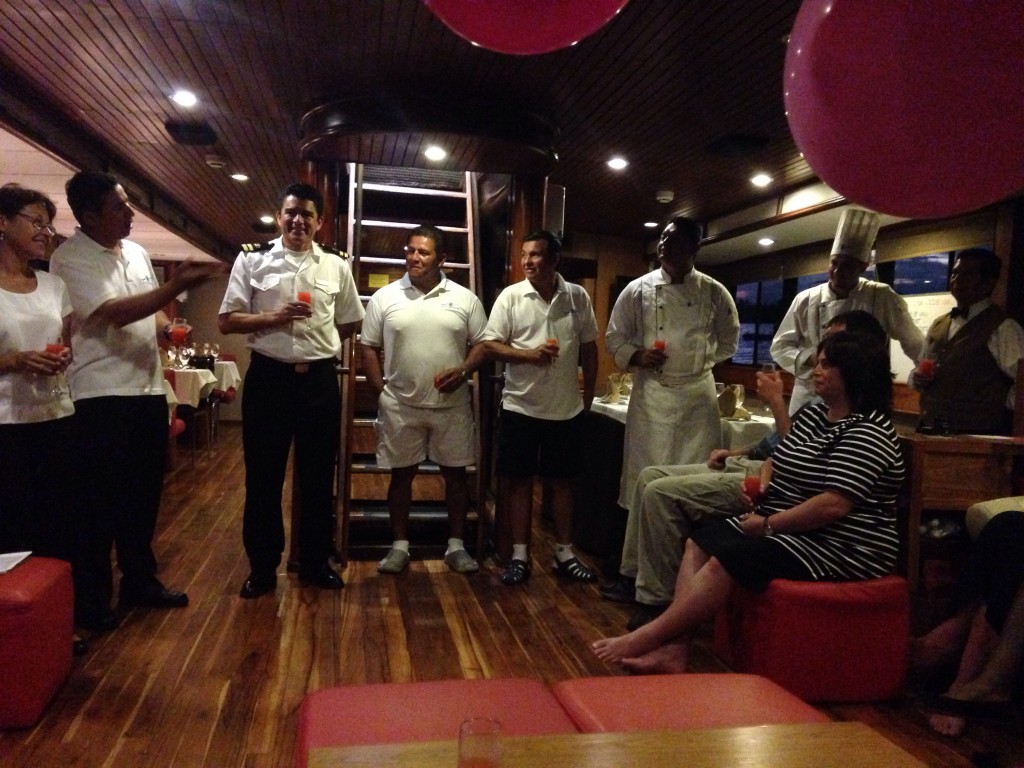 We found ourselves back where we started in the bay off San Cristobal.  While the crew organised our flight check in, we visited the interpretation centre, which again highlighted human ignorance and arrogance.  The town of San Cristobal is mainly souvenir shops and a few grocery stores.  Sitting on the wharf, eating a cooling ice cream and watching the comings and goings of the boats, sea lions and pelicans was a lovely way to finish the Galápagos.  It was going to be hard to return to reality, and that was even with our reality being more travel rather than the proper real world.  All of my reservations at the start of the cruise had been completely quashed over the week and the fabulous week was made even better due to the fantastic people on our trip.  It was sad saying goodbye to everyone as we departed the plane in Guayaquil and we hope to meet up again for further adventures.
A massive thanks to the great crew that helped to make out trip so easy and to the fantastic guests who helped to make it so enjoyable.