The Inca Trail was the one completely non negotiable, not to be missed activity on our trip.  We even added extra travel time and cost by jumping over to Colombia from Bolivia and then back to Peru just so we wouldn't be in Peru in February when the Inca Trail was closed.  There was no way I was going to Machu Picchu without walking the Inca Trail to get there.  It had been part of the reason that I ran the Queenstown marathon in November just so I would be fit enough to cope with, and hopefully enjoy, the climb to 4200m.
We drove out from Cusco early in the morning passing through the Sacred Valley and the areas where the strikes had been happening over the previous two days.  Given the number of large boulders, trees, earth, rocks, and branches that were strewn over the road, I was glad we hadn't come through while the strike had been on.  They were in cleanup mode now, but the roads were a bit of an obstacle course.  It took a few hours to drive to km82, the starting point of the trail.
One of our concerns was that we would be in a group with people who felt it was a race to get to the end, but turns out we were our own group of three with our guide, six porters and cook.  It felt a little like overkill, but it was certainly going to help with the enjoyment of the hike.  Our poor porters were loaded up with the camping equipment, food and all our and our guide's gear.  We had been limited to 5kg in a duffle bag and the rest we would carry ourselves in our day packs as the porters weren't allowed to carry more than 20kg.  There were checkpoints at the start and along the way to ensure they maintained this limit.
Our guide was so relaxed and took everything easy, there was no rush at all at anytime, so we were one of the last groups to start.  We passed all of the porters being weighed and we handed over our tickets, got our passports stamped and crossed the bridge to start the trail.  Humberto had a great technique to ensure we would survive and enjoy the hike, he was a slow plodder and loved taking photos as much as we did so we had many stops.  He had actually been guiding on the Inca trail for 23 years, generally once or twice a month, so he definitely had the experience and knowledge to make our hike as enjoyable and interesting as possible.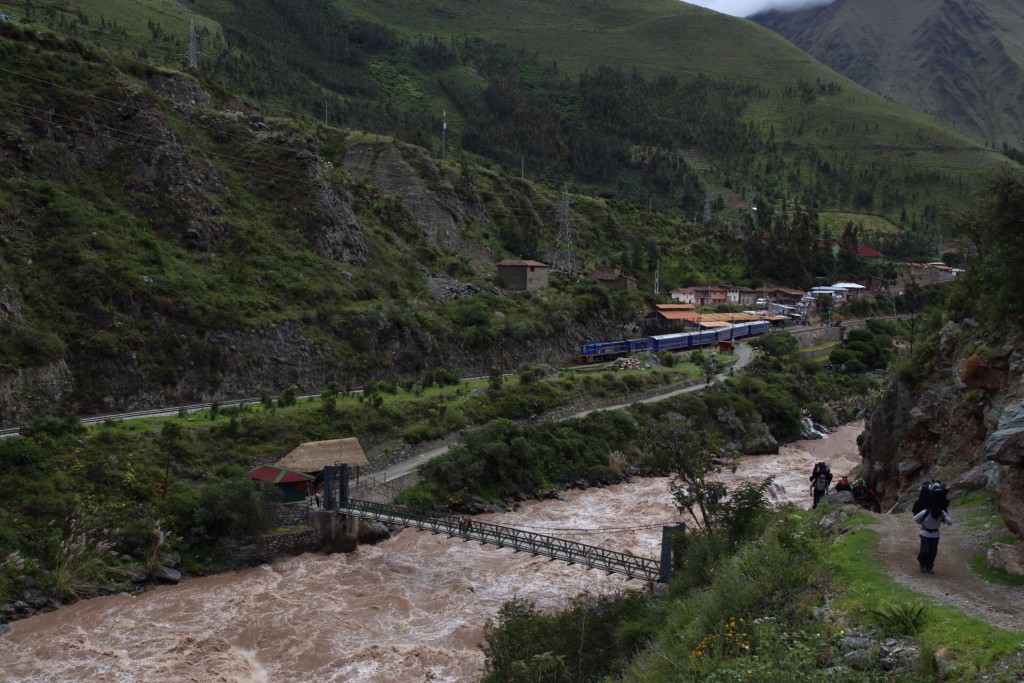 It is a nice meander above the Urubamba river with a couple of hills, but nothing too strenuous prior to stopping for lunch.  Lunch was like nothing I'd ever experienced on a hike before.  The porters had set up a couple of tents, one the kitchen and the other for dining and we lay out relaxing while they prepared lunch.  They served us a three course affair with a lovely avocado starter, soup and a main.  There was no way we would be going hungry on this trip, I was more worried we wouldn't eat all the food they had to carry.
Following lunch we had our first harder uphill, that even a horse appeared to be struggling up, but not a four year old boy.  We passed the Inca ruin, Willkarakay, with a view over Llaqtapata.  They were yet more amazing Inca structures and Humberto explained why the different parts were built facing certain directions so that the Inca could use them like a calendar using the sun.  He is actually writing a book on the area and the different ruins so he was able to explain so many interesting points.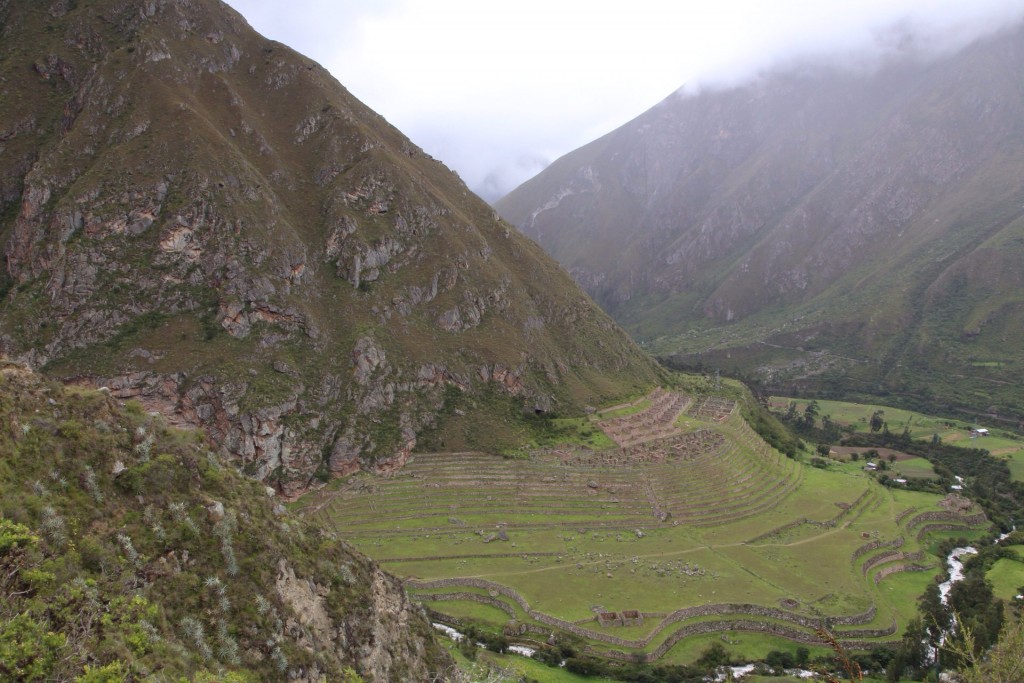 Having done a number of hikes in New Zealand and Canada it never occurred to me that you would find villages along the trail with people still living there and selling food and drink to tourists.  We even passed a cemetery that is still being used today.  Our campsite for the first night was in the village of Wayllabamba in the backyard of a random family.  That's how all of the campsites were organised for the first night and was a way for the families to make a little extra money.  There were a variety of dogs, chickens, roosters, and even guinea pigs wandering around the yard and we appeared to be another addition to the farm yard animals.  The porters had already set up the tents with our sleeping mats, bags and duffel bags inside so we just needed to change and relax while dinner was prepared for us.
I generally sleep well when camping and hiking and here was no different, but sleeping through to the alarm was not an option.  The rooster in our backyard started a chorus of crowing that travelled up and down the valley passing from rooster to rooster lulling into silence to start all over again.  Today was the dreaded Dead Woman's Pass and we were hoping not to become one of those.  Our cook fed us up on a hearty porridge breakfast and we left the porters to pack up while we started our plod up to 4200m.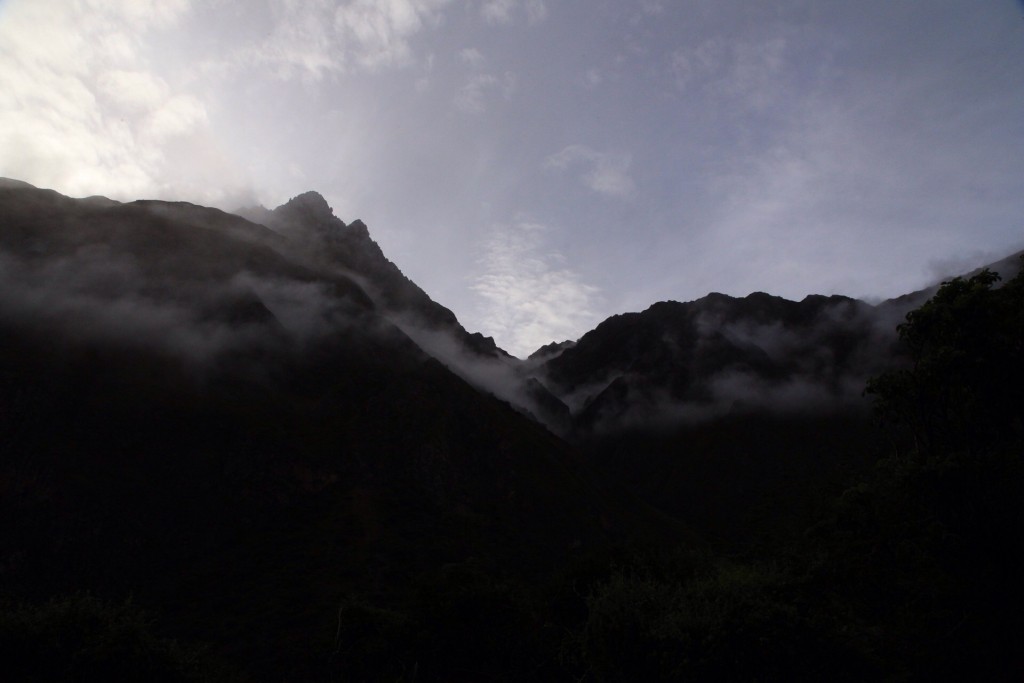 Humberto recommended that we zigzag our way up the hill taking it nice and slowly finding the smallest steps possible.  Given that he had been guiding for 23 years he knew every trick to make it easier, but he also knew everyone on the track.  There were actually four of his friends that he had started guiding with on the trail at the same time as us.  We kept our zigzag plod going while all the porters from various groups pretty much ran passed us and Humberto randomly chatted to people.
Having climbed 1000m, we had a break at 3900m for a snack before our final push up to Dead Woman's pass.  It hadn't been as difficult as I had expected to this point so was dreading the final 300m.  Turns out we had done the steepest part so the biggest problem to come with getting to Dead Woman's pass was the altitude itself.  We had been the last group to head off in the morning and since we had a slow plod going on, it was surprising that we passed others on our way to the pass.  Humberto's recommended technique worked a treat and we made it happily to the top.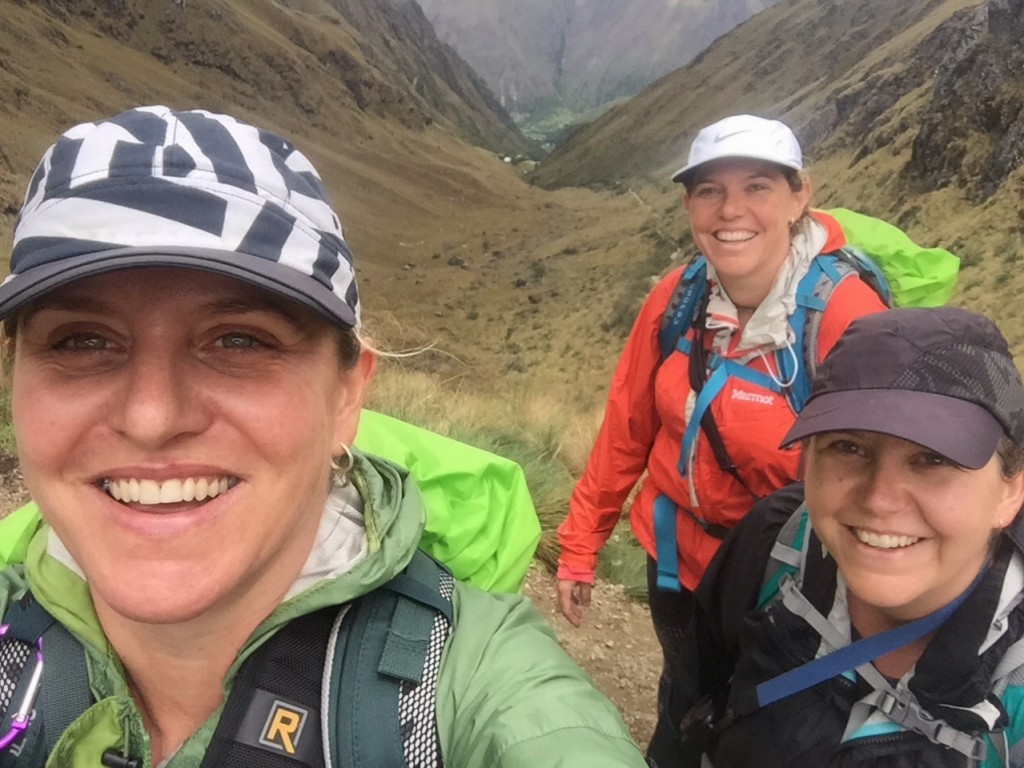 As I should know well, getting up isn't usually the problem, it's the going down and we had 600m to get down.  I would have preferred to keep going up, the constant looking down irritated my neck and even Humberto tripped over as he came down.  Luckily he didn't injure himself seriously, we would have been useless nurses and even worse at carrying him.  We finally made it down to the campsite, Runkurakay, the largest on the whole trail and had a late lunch, relaxed for a few hours and then had dinner.
It was rainy season in Peru and so far we had got off lightly, but the following morning we awoke to a heavy fog and constant drizzle.  We started off hoping it would lift, but we were getting soaked and our cameras were struggling with the wet, so out came our new favourite things, rain ponchos.  The start of the day felt much harder than climbing up to Dead Woman's pass, maybe it was that we were tired from the previous day or it could have been that it was just steeper.  We had a brief stop at the Runkurakay ruins and then I got my trusty plod on and got to the top of our second pass feeling a lot better than when we started.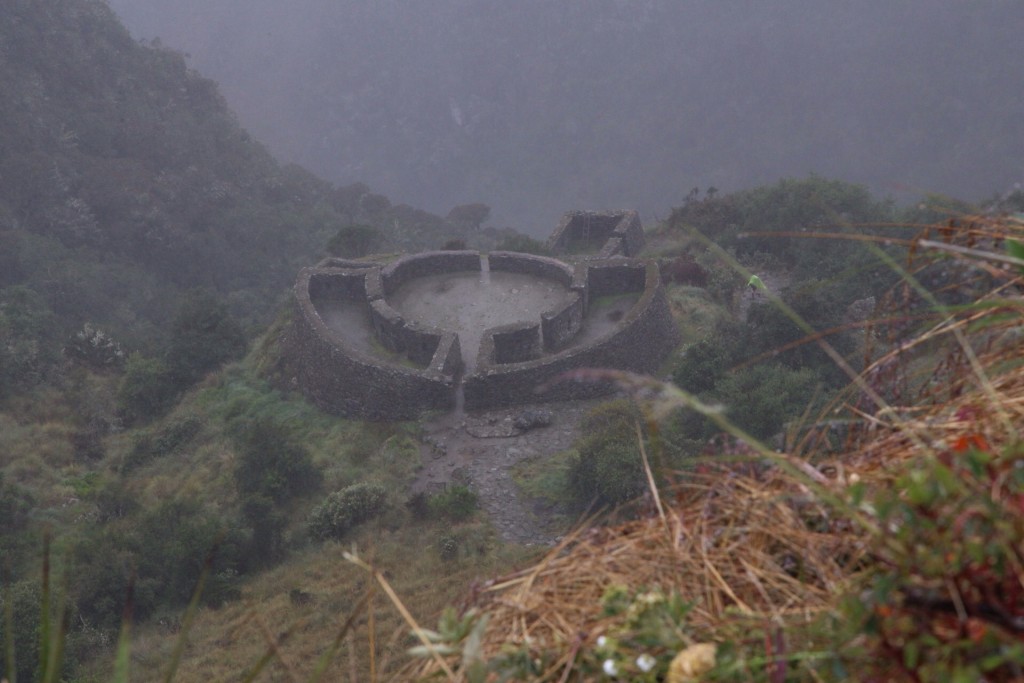 There was a lot more variation in ups, downs and flats today.  After clambering up to Sayacmarca, which would have given amazing views around the valleys if the drizzle had stopped, we finally stepped on the Inca trail proper.  It was amazing how much more even the path became and it was more undulating than steep.  They built walls up the sides of cliffs so they could take the route they wanted and created tunnels through the rocks.
We stopped for lunch at 'The Top of the World' and then started our 1000m descent, mainly using stairs.  The first set of stairs down to Phuyupatamarca were so steep I thought we wouldn't make it to camp before dark, but as the path meandered through the ruins and once we were out the other side the stairs improved slightly.  The Inca certainly weren't as great with stairs as they were with paths, but there was one stunning section of spiral staircase that almost made up for their ineptness with the remainder.
As we neared our campsite, we were given the option of taking the shortcut straight down to the campsite or going via another ruin, Intipata.  To us the answer was obvious, of course we'd go to the ruins, but we were surprised by how many other hikers opted to skip the ruins and go straight to camp.  Intipata had an amazing series of convex terraces which they used for horticulture.  It was fascinating to see the terracing on such a large scale and there are even llama still grazing up there.  We finally made it to camp just before it got dark and our cook had made a special cake for us.
Most groups make an early start on the last day to make it to the sun gate for sunrise, but not ours.  Humberto saw no reason to race to the sungate being it was rainy season and we were unlikely to see the sun rise.  He also said that the main reason many guides left so early was so that they could be rid of their groups earlier and the porters wanted to get home.  Our porters clearly wanted to get going as the campsite was pretty much packed up when we finally got up at 6.  It was another cloudy morning, but you could see the sun trying to break through so we would have an amazing final walk.
The campsite is named Wiñaywayna after the other nearby ruins that we went down to visit instead of racing off to Machu Picchu.  Here they had created layers of convex terracing used to acclimatise plants to different temperatures and also act as a type of Inca hospital.  It is such a stunning place and as the sun started breaking through the cloud I was glad we didn't miss it.
We finally started heading to Machu Picchu about 7am, picking up one of our porters at the checkpoint as he was carrying our gear to Machu Picchu Sanctuary Lodge.  He tried to stay with us, but we were far too slow taking photos and generally being much less fit than him.  The last stairs up to the Sun Gate were particularly awful, but what a spectacular sight when we reached the top.  The sun was streaming over Machu Picchu and I couldn't imagine arriving any other way, the hike was definitely worth it.
As we walked down into Machu Picchu we passed many tourists huffing and puffing up to the sun gate having arrived to Machu Picchu by bus.  We certainly had a smug feeling having just done three days to get there, not just 30 minutes, but it also made us into a tourist attraction in itself with Fiona being asked to pose for a photo because she had actually hiked the trail.  The cutest part of our walk down was how excited our porter was to actually be in Machu Picchu, he was taking even more photos than we were.  Turns out the porters don't usually come into Machu Picchu itself, so it was probably his first time too.
We dropped our gear off at the Sanctuary Lodge, said goodbye to our last porter and re-entered the archeological site for a tour with Humberto.  There was so much fascinating information and the site is huge.  They are constantly doing maintenance on it and by the time they've worked around removing the moss they need to start all over again.  As with other Inca sites we had been to, the temple had been finished to an amazingly exact standard compared to the rest of the buildings.  There was no way the Inca's had any fear of heights as everything seemed to drop down steeply to the river below and I would have been scared of falling, but as Humberto explained, the Inca believed in an afterlife and would happily accept death, supposedly.  We spent a few hours with Humberto and only really covered three quarters of the site.
As Humberto was leaving it began to rain again, so it was perfect timing for lunch at the Lodge.  We still hadn't changed out of our smelly hiking gear so felt very sorry for the posh visitors around us, but too bad.  It was such a luxurious way to finish the Inca trail so we celebrated with a few Pisco sours and a massive lunch, we certainly felt we deserved it.  After lunch it was so tempting just to head to our room, have showers and get out of our smelly clothes, but if we did that we wouldn't get back into Machu Picchu again, so we donned our rain ponchos and headed back up.
We walked out along a narrow path to the Inca bridge, which was another example of insane Inca engineering and their fearlessness towards heights.  I was relieved that you couldn't actually walk onto the bridge being so narrow and hanging on a cliff, but they do make you sign in and out because the rest of the trail is quite narrow and over a massive cliff.  It was much quieter in the late afternoon because most tourists had headed back down to Agua Calientes, so we could wander around different parts of Machu Picchu without feeling harassed.
Having an amazing shower, a Pisco tasting, a fabulous meal and sleeping in big comfy beds was such a treat after the Inca trail and a great way to celebrate doing something we had wanted to do for what felt like forever.  Machu Picchu is a phenomenal place, but I couldn't imagine approaching it any other way than from the Inca trail and the sungate, well worth the time and effort.